Description
The touch screen monitor TX-10, with its touch screen, 10 points, 10.1 inch, offers the experience of a tablet in the form factor of a monitor. Its design with foam gasket allows a smooth integration into the terminals and its index IP65 front panel protects the screen against dust and water. Mounting brackets external are provided for installation in a large number of application environments : in a meeting room as a planning screen or in the applications public, commercial, and industrial. To a portrait or landscape orientation, TX-10 is the ideal solution.
SUITABLE FOR ALL SCENARIOS
Aware that the needs of each user are different, AG Neovo has equipped its TX-10 external media open frame, allowing users to mount their monitor in their unique environment and for their specific use, portrait or landscape orientation. The cleanliness and order are essential in environments of commercial and industrial. A power adapter lockable devices and cable management at the rear of the monitor keep the cables neat and in order, avoiding the cords loose, messy or disconnected.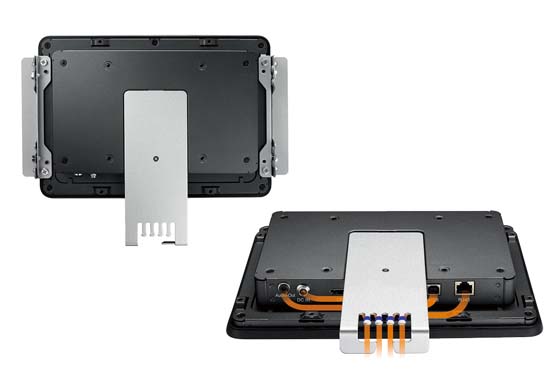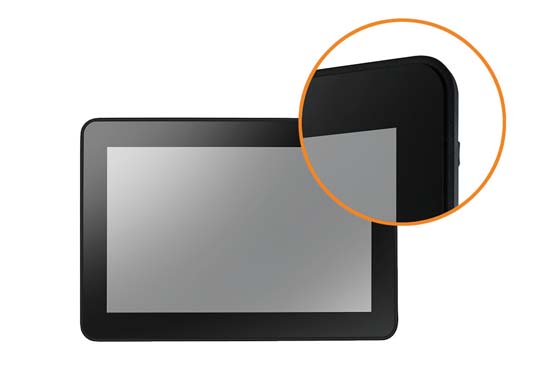 FUNCTIONAL AND RELIABLE FOR REAL-WORLD USE 24H/24
With touch technology projected capacitive, the TX-10 has a capacity touch 10 points, and offers users a tactile experience more precise and smooth. And this functionality relies on a high level of reliability for use 24h/24 and 7d//7. The index IP65 front panel protects the screen against dust and water. The outer edge of the monitor consists of a frame of plastic resin and finished with a foam seal, ensuring a harmonious set-up and air-tight and protection against shocks. Finally, with its high operating temperature (up to 50 °C or 122 °F), the TX-10 has the ability to work in harsh environments.
BUSINESS, RETAIL, PUBLIC, INDUSTRY :
THE TX-10 COVERS ALL ENVIRONMENTS
With its trio of versatility, functionality and durability, the TX-10 can adapt to a wide range of applications and environments : planning screen in a meeting room, an electronic catalogue in a retail shop, a system of self-service in a restaurant, recording screen in a hotel, informational kiosk in a shopping centre or on screen in an industrial environment automated.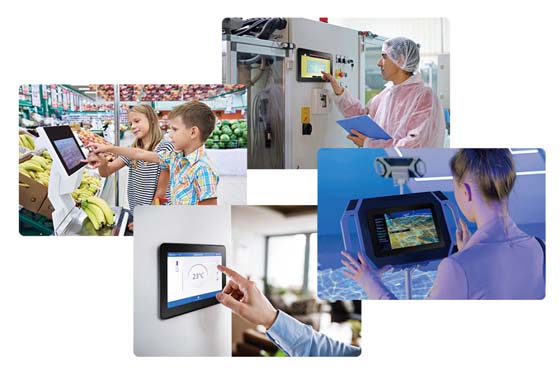 Display
Taille de l'écran / 10.1″
View Angle (left/right
high - /low) / 170°/170°
Range of colours /
NTSC 45 %
Response time / 5 milliseconds
His
/Audio output
Jack stereo audio (3.5 mm)
Touch screen
Technology /
Capacitive projective
Positioning accuracy /
±2.5 mm
Interface panel /
USB (type B)
Touch 10 points for Windows® 7、8、10

Prise en charge d'une seule touche par le pilote
Windows VISTA/XP/2000/CE/XP embedded, Mac OS 10.10-10.14

Supports multi-touch with driver
Touch 10 points for Linux、Android 2.3-4.x

Power supply
Exigences d'alimentation /
DC 12V 1.0 A
Glass
Thickness /
3,3 mm (0,13″)
Transmission rate /
> 85%
Operating conditions
Humidity /
20%-80% (non-condensing)
Storage Conditions
Temperature /
-20°C to 60°C (-4°F To 144°F)
Humidity /
10%-90% (non-condensing)
VESA wall mount
VESA FPPMMI /
Yes (100 x 100 mm)
Dimensions
Product without stand (W x H x d)
260,7 x 183,4 x 39,4 mm (10,3″ x 7,2″ x 1,6″)

370,0 x 325,0 x 160,0 mm (14,6″ x 12,8″ x 6,3″)

Weight
Product without base /
1,4 kg (3,1 lbs)
Packaging / 2.4 kg (5.3 lb)
Certification
Certifications & Compliance
Accessories
Supplied
DisplayPort Cable
Power Adaptor
Power Cord
Quick Start Guide
Side Bracket Package
USB Cable
VGA Cable
Warranty Card
Wired OSD Controller
Optional Accessories
Wall Mount (Landscape only)