The description Totem double screens / features
Our kiosk/totem outdoor is IP65 dust-tight and water, it has a high brightness of 2000 ~ 3000 nits for outdoor use, it is designed specifically to withstand the weather, and to work in the heat, cold, rain, snow and dust. These kiosks/totems digital remotes have an ultra slim design for maximum impact on the screen without distraction.
Our exterior digital signage can help you to :
Maximize your return on investment marketing and advertising
Offers a lower total cost of ownership over the life of the housings
The open Solution – Replace, upgrade, or modify the equipment if necessary
Performance – Peace-of-mind Efficiency for intensive applications 24h/24 and 7d/7
Support profitable advertising
Kiosk outdoor digital dual-sided 
Sizes : 32" 43" 49" 55" 65" 75" 86"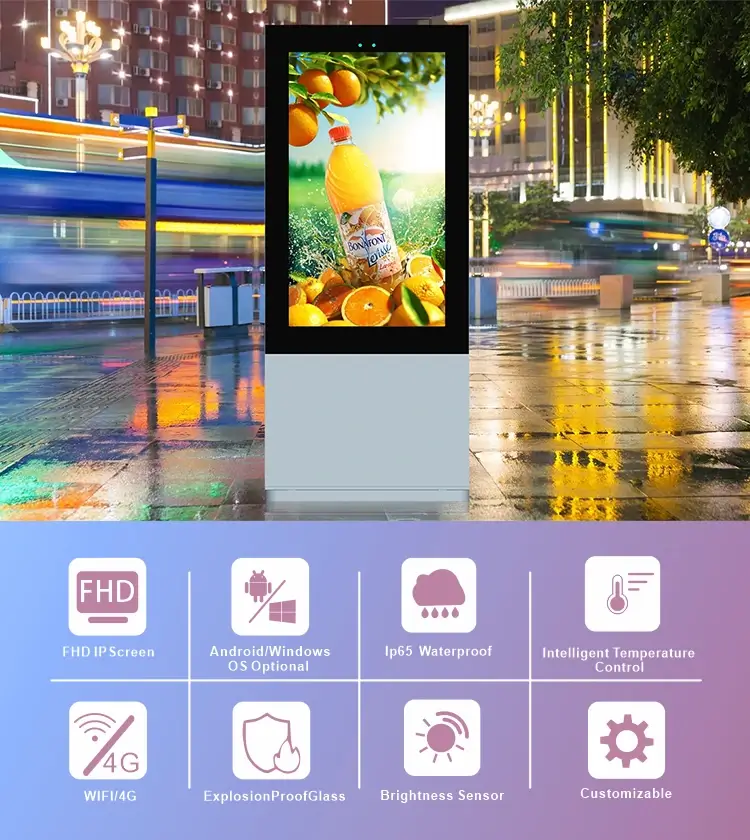 Kiosk double screens : 8 kinds of protection functions
Waterproof / Dust-proof / explosion-proof / Anti-glare / Anti-theft /
Lightning Protection, anti-corrosion / Anti-leakage electric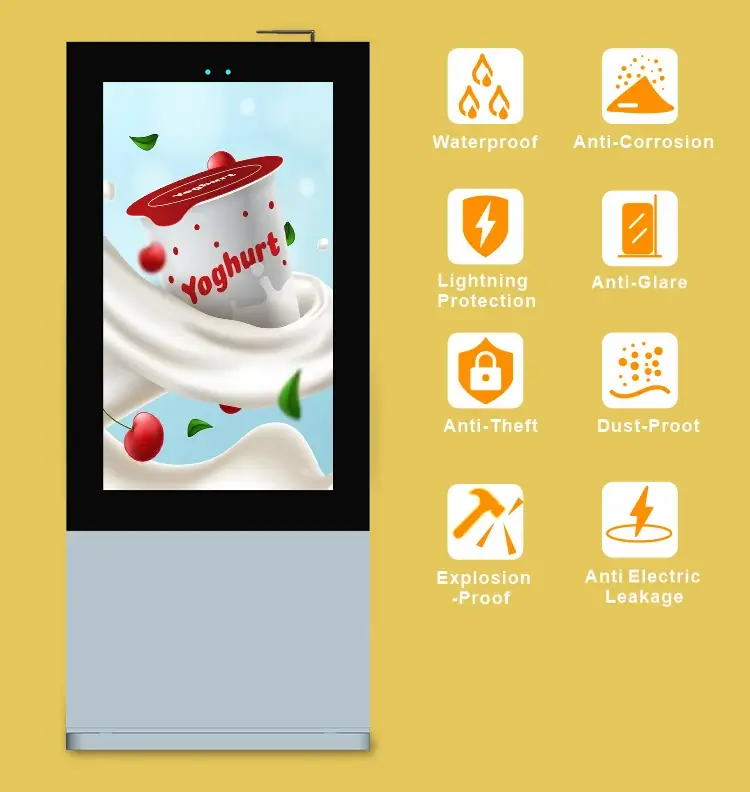 Glass explosion-proof
The tempered glass of high quality 4 mm to 6 mm can withstand
shocks and protect the security of the display screen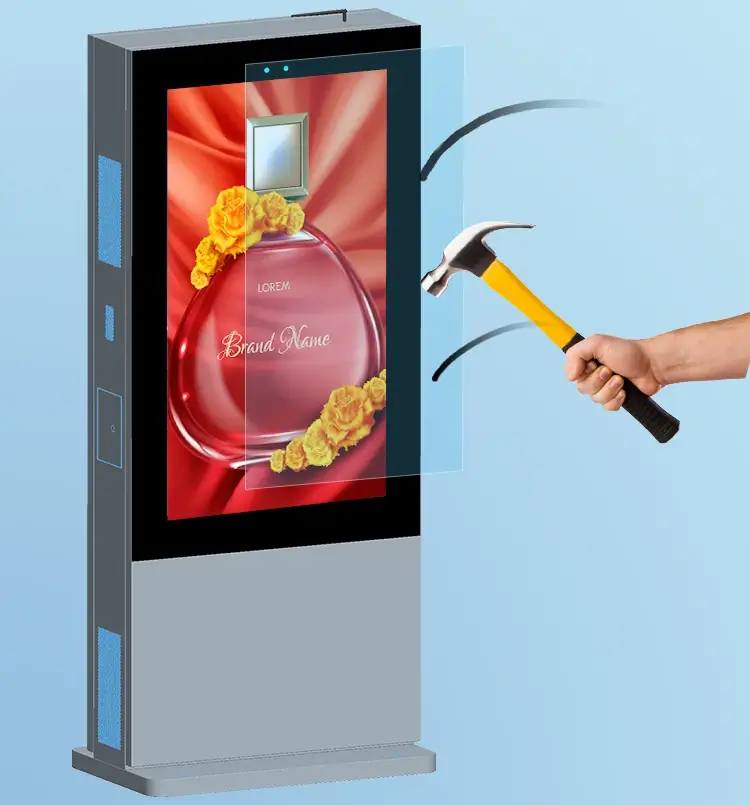 Protection stable IP65
Adopt an LCD screen, waterproof and high-quality components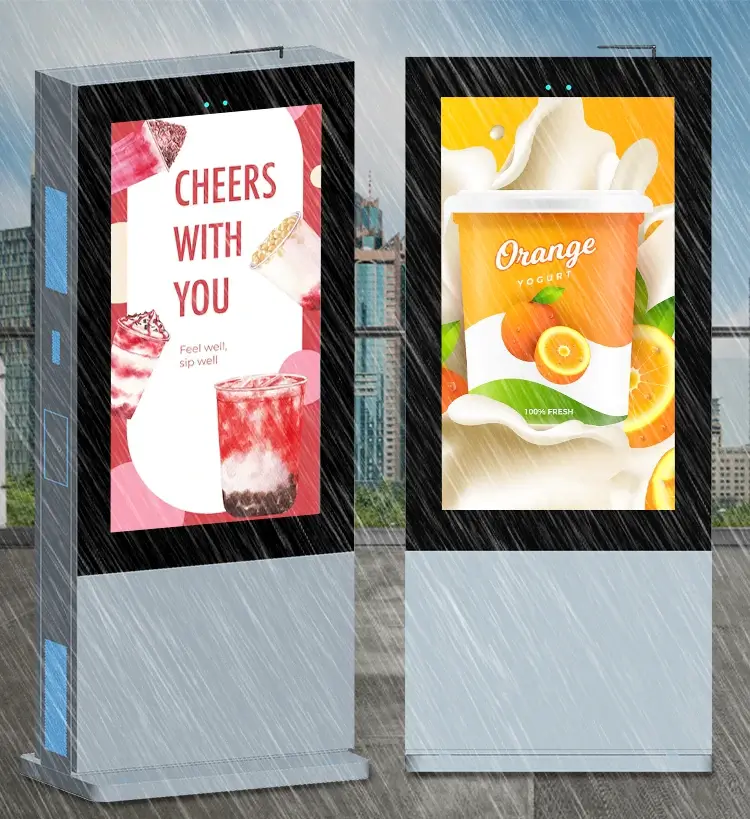 Temperature control built-in
The air conditioning system of internal allows the screen to be used permanently in an outdoor environment. Internal fans keep the panel and other internal components at an optimal operating temperature, guaranteeing a long service life and reliable to your screen.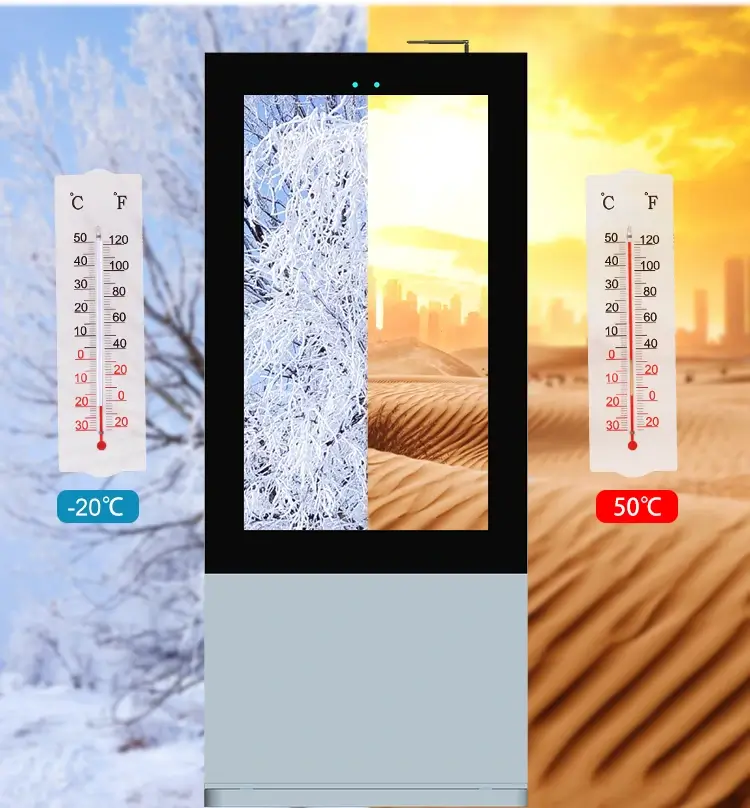 Structure design of ventilation military grade
Adopts a structure design of ventilation of military grade. When the temperature of the
machine increases, it can cool down quickly without affecting the normal use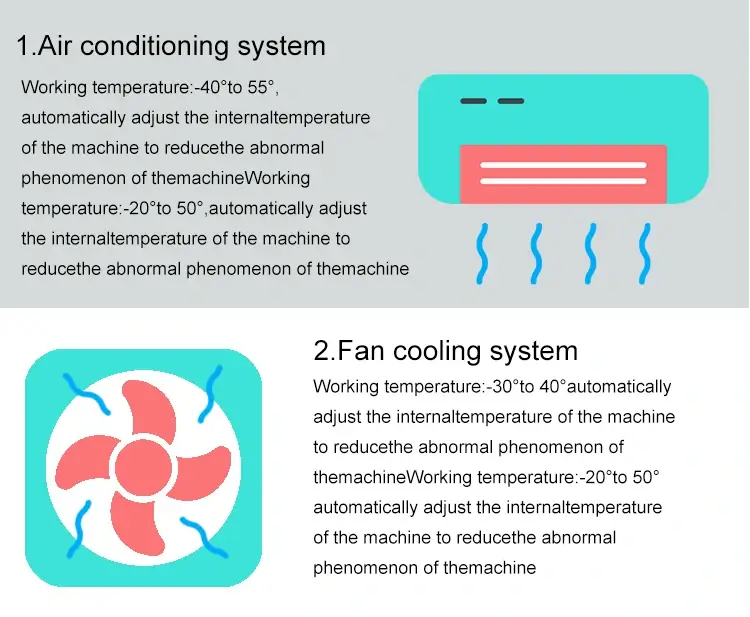 Interactive Performance-fantastic
Adjust the touch screen PCAP sensitive to 10 points to bring you performance touch-sensitive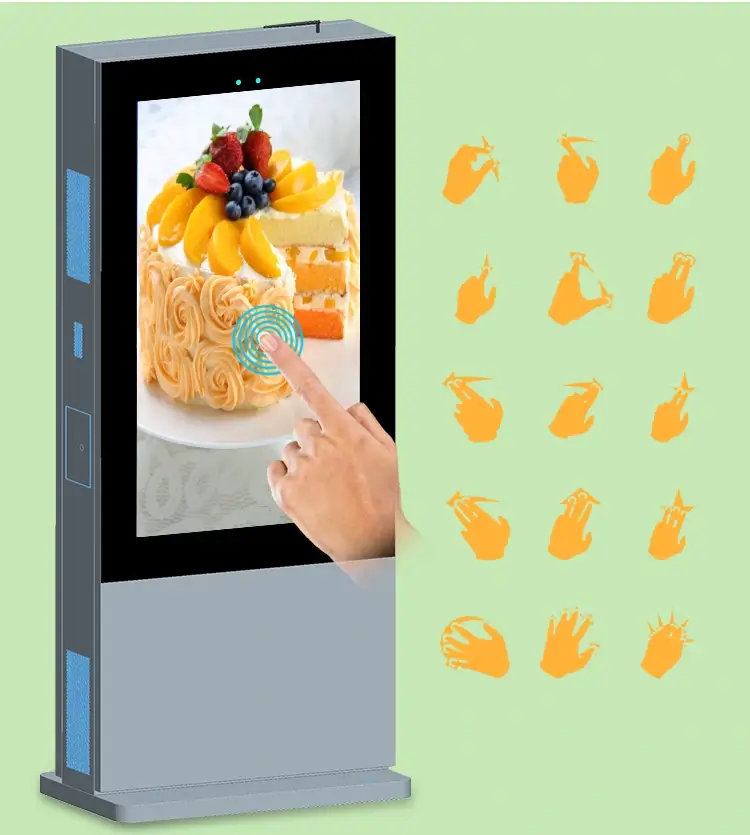 Support for multiple functions split screen
Multiple screen modes-shared, videos and images can be read at the same time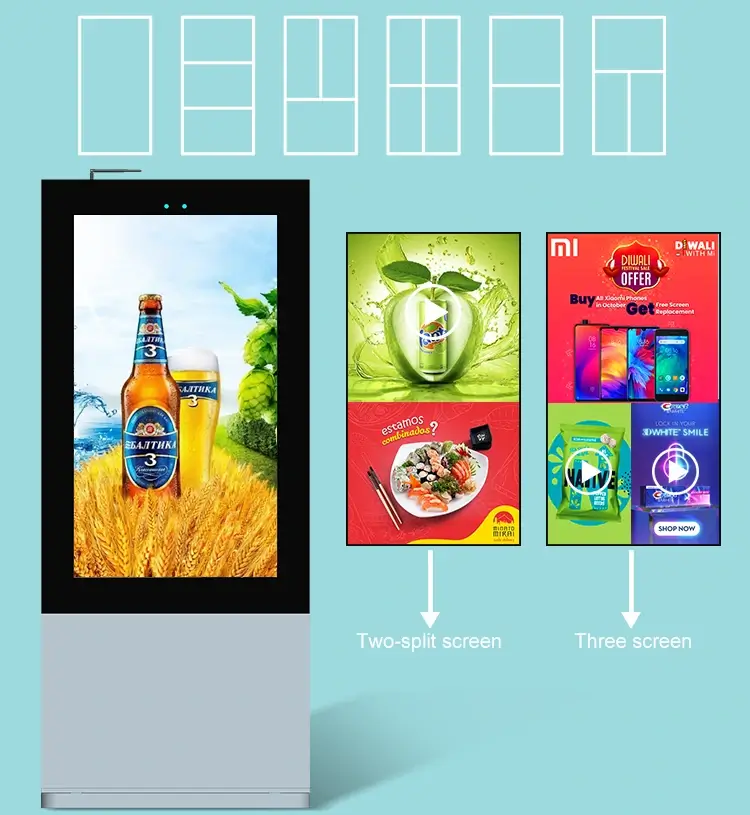 Display ultra-high brightness
2000 ~ 3000nits high brightness and performance of work 24 * 7, visible in direct sunlight, which is an outward display that is readable in the sun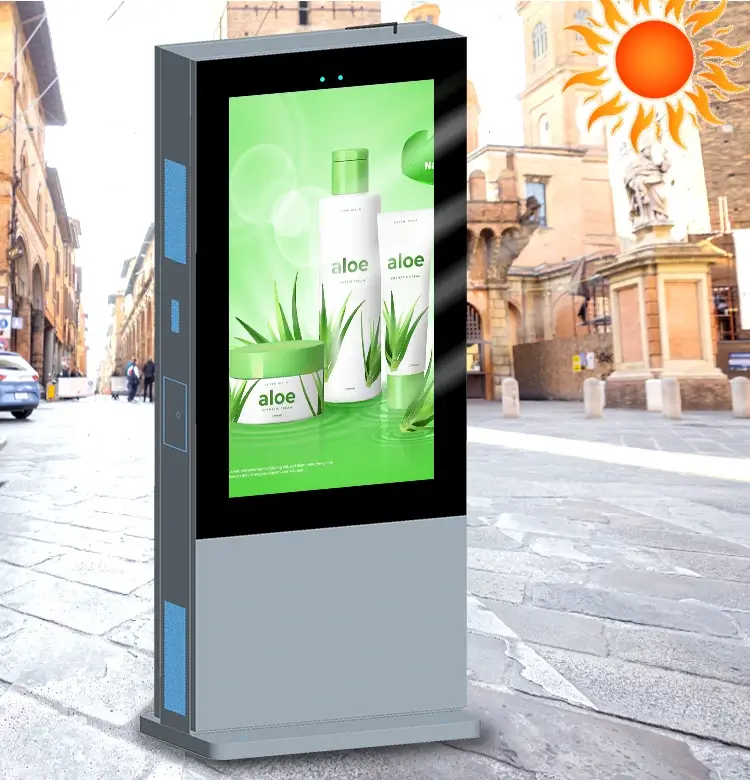 Intelligent control of the brightness sensor
Can automatically adjust the brightness of the LCD screen according to the brightness of the external light.
in order to minimize the energy consumption, save energy and protect the environment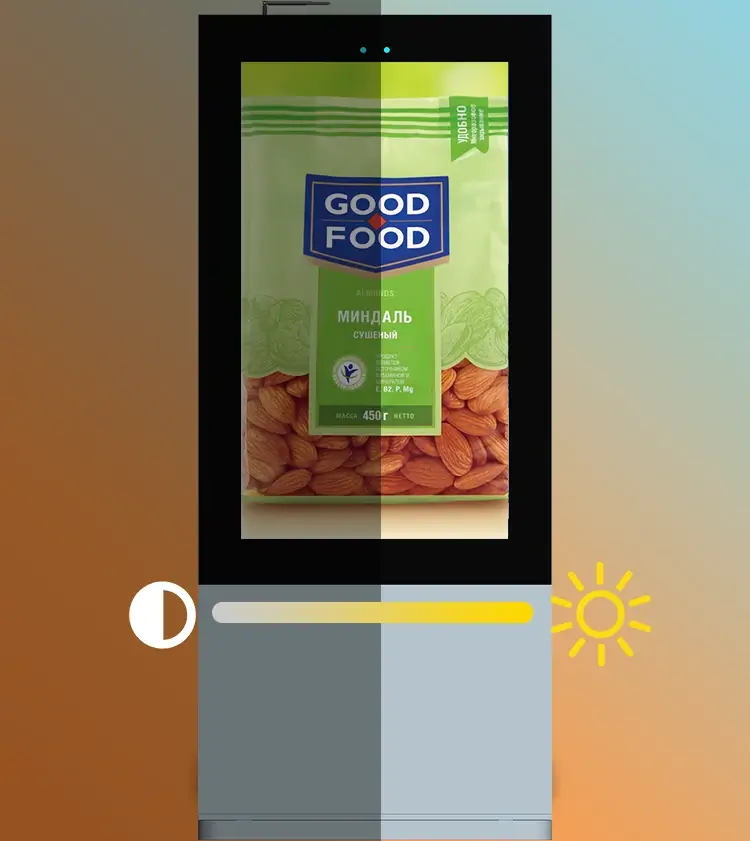 Support long hours of work
Adapt high-quality components, support 24/7 hours
uninterrupted work, life of 60,000 hours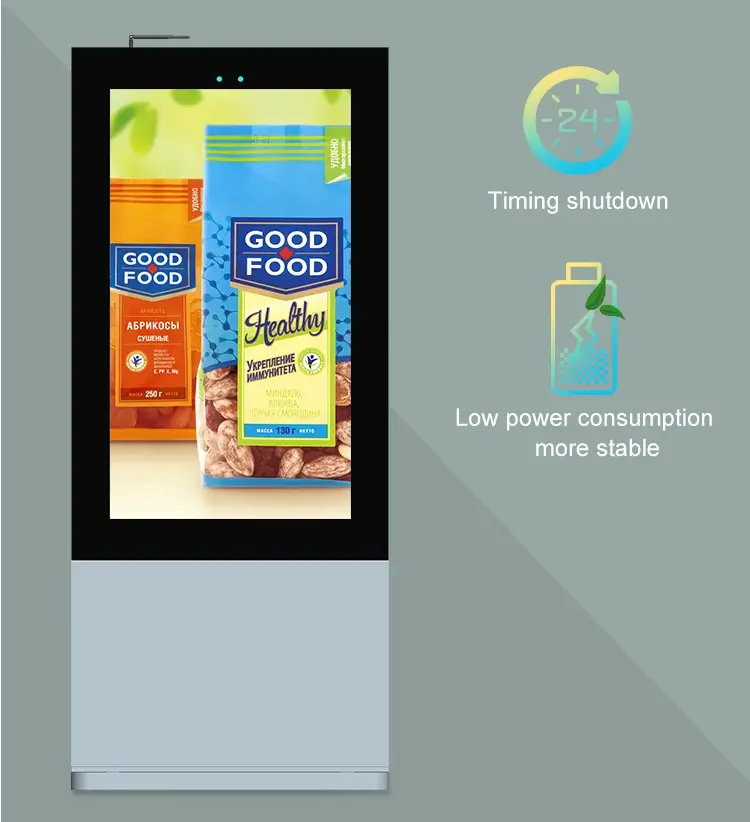 System Android or Windows
We provide operating systems flexible according to different applications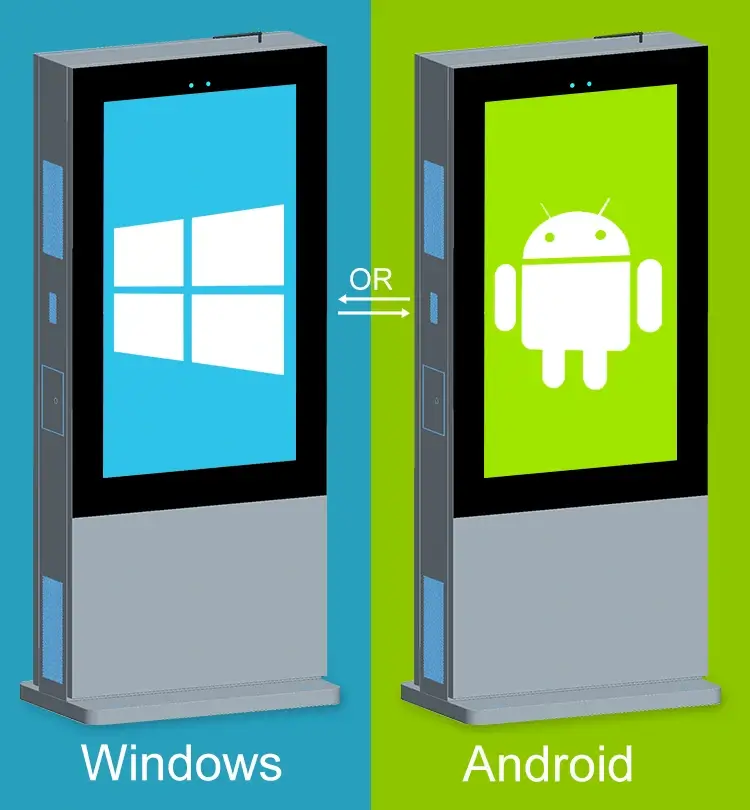 product details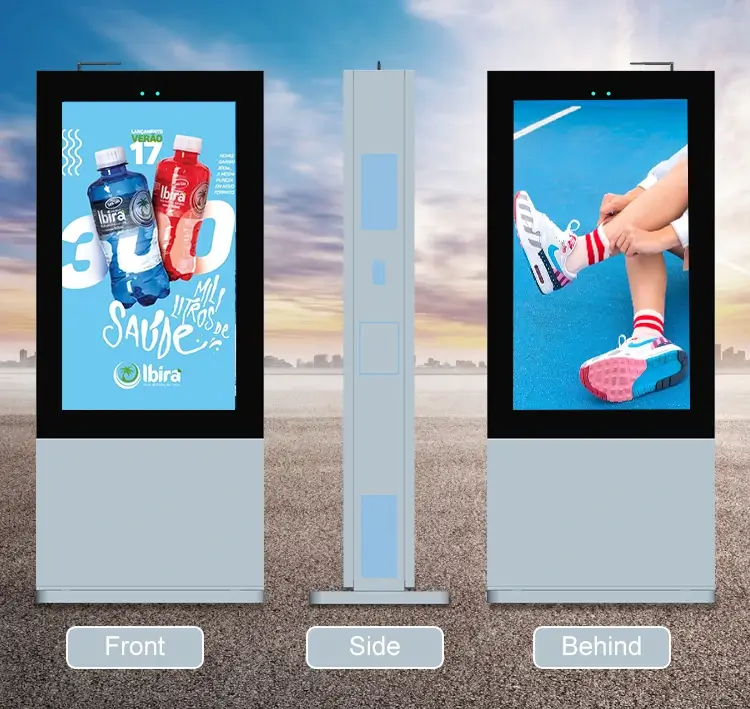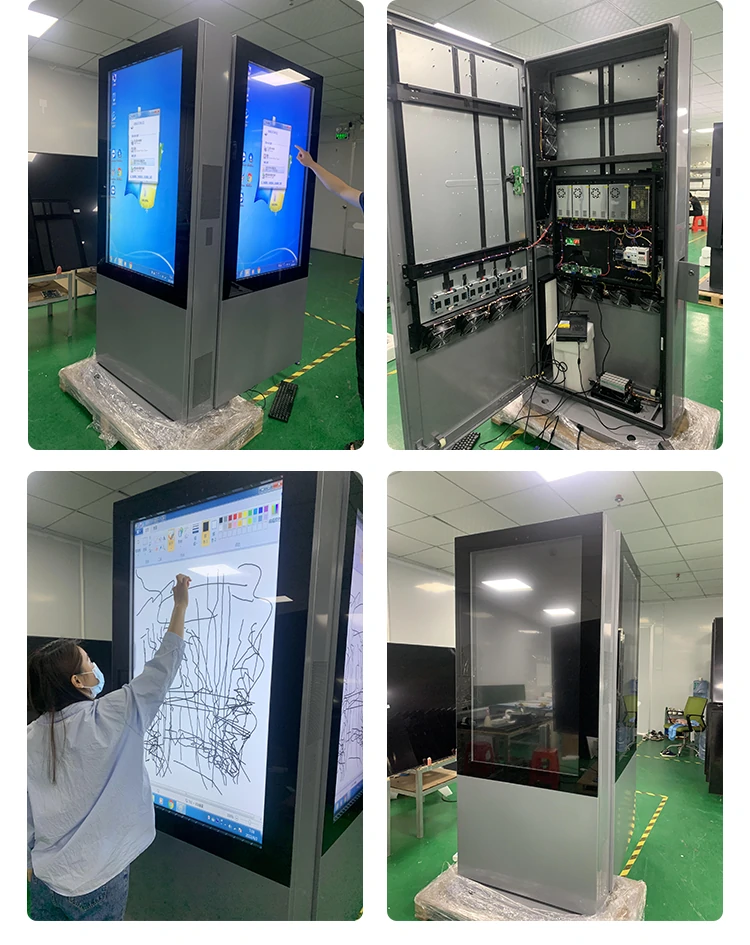 Popular Applications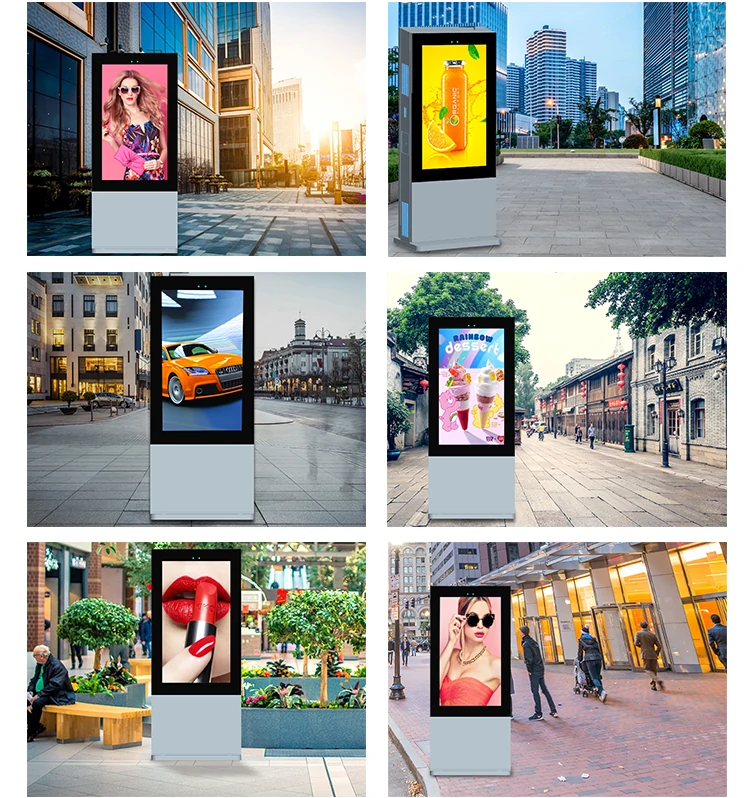 Panel

Display size (inch)

43"

49"

55"

65"

Resolution

1920×1080

1920×1080

1920×1080

1920×1080

Active display area(mm)

941.2×529.4

1073,5 x 603,0

1209,6 x 680,4

1428,5 x 803,5

Aspect Ratio

16:09

16:09

16:09

16:09

Brightness(cd/m2)

2000nit

2000nit

2500nit

2500nit

Contrast ratio (Typ.)

1000:1

1000:1

5000:1

5000:1

Angle of view (H/V)

178/178

178/178

178/178

178/178

Color

16.7 M

16.7 M

16.7 M

16.7 M

Response time (G to G)

6ms

6ms

6ms

6ms

Opening hours

24/7

24/7

24/7

24/7

Sound

Speaker

5W, 8Ω (2 games)

5W, 8Ω (2 games)

5W, 8Ω (2 games)

5W, 8Ω (2 games)

Power

Type

Internal

Internal

Internal

Internal

Current Source

AC 100 – 240 V~ (+/- 10 %), 50/60 Hz

Power consumption

Max[W/h]

100

120

150

260

Standby Mode

less than 0.5 W

less than 0.5 W

less than 0.5 W

less than 0.5 W

Stop

less than 0.5 W

less than 0.5 W

less than 0.5 W

less than 0.5 W

Specification mechanical

Glass protection

Yes

Yes

Yes

Yes

Media Type

Foot Support

Foot Support

Foot Support

Foot Support

Environment

Operating temperature

-30°C ~ 50°C

-30°C ~ 50°C

-30°C ~ 50°C

-30°C ~ 50°C

Storage temperature

-30°C ~ 55°C

-30°C ~ 55°C

-30°C ~ 55°C

-30°C ~ 55°C

operating humidity

10 % ~ 80 %

10 % ~ 80 %

10 % ~ 80 %

10 % ~ 80 %

Storage humidity

5% ~ 95%

5% ~ 95%

5% ~ 95%

5% ~ 95%

Cooling system

Turboventilateur powerful and flow fan cross/air conditioning (optional)

Protection against hypothermia

Heating (heater aluminium sheet) (option)

IS

Media player Android

Processor

Rockchip® 3288 (1.8 GHz, quad-core)

RAM

2G

Glow

MEM 8G

USB

HOST USB2.0 (X2)

local area network

Ethernet 10M/100M (screen network version only)

External memory

8gb SD card (up to 32gb)

Multimedia

Video (MPG, AVI, MP4, RM, RMVB, TS), Audio (MP3, WMA), Image files (JPG, GIF, BMP, PNG)

Resolution media

1920*1080

Wi-fi

Ethernet 802.11 b/g/n (screen network version only)

System operator

Android 7.1

Certificate

Security

CE ROHS IP65

Accessories

Included

Scheduling software, Remote control, Key, power Cable, SD Card

Quality Assurance

1 year

Type of packaging

Cardboard box/box with honeycomb + wooden crate