Description
La description Écran totem étanche / features
To meet the requirements of our customers, our team has researched and developed this product in digital advertising waterproof IP66, with a level of protection to ultra-high, housing is very durable and borderless, etc
Main features:
Technology of optical link screen fully fitted, ultra-narrow 38 mm, ultra-thin 98 mm thickness, super large screen accounts for 96 %
degree of protection IP66 degree explosion-proof IK10
Resistance to high temperature industrial screen high brightness
Digital signage waterproof IP66 outdoor
32" 43" 49" 55" 65"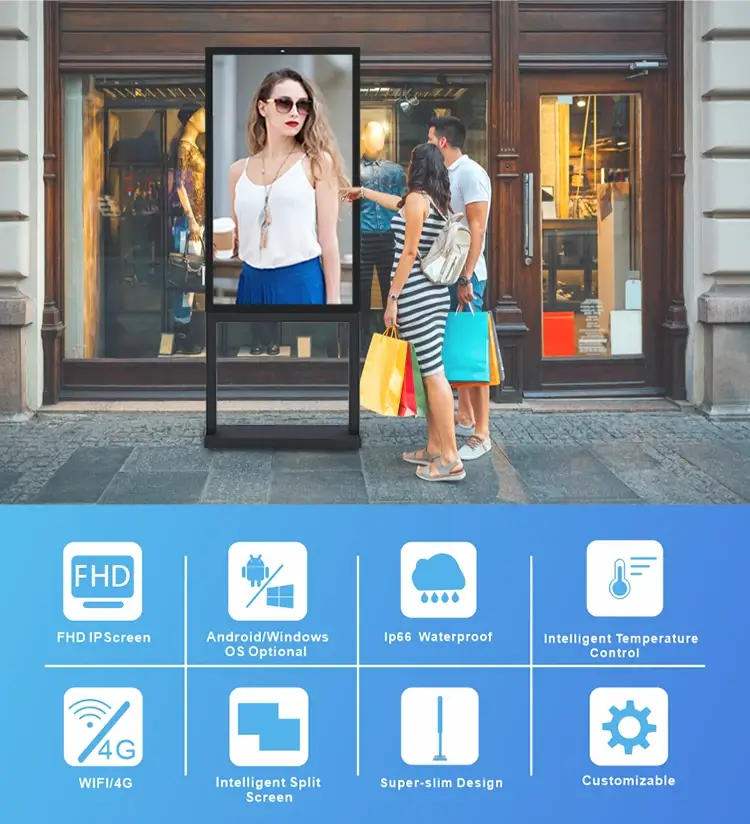 Protection IP66
Impervious to water, dust, photoprotection, lightning, shock, corrosion, theft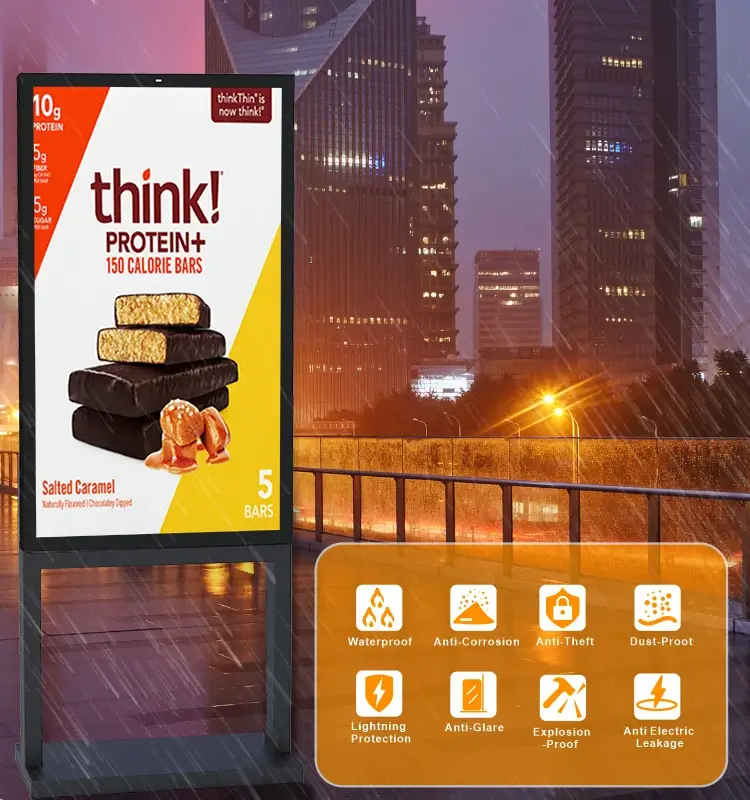 Screen ultra-clear FHD range of colors 100 %
The image quality is professional, which can display bright colors to more accurately and adapt to all kinds of environments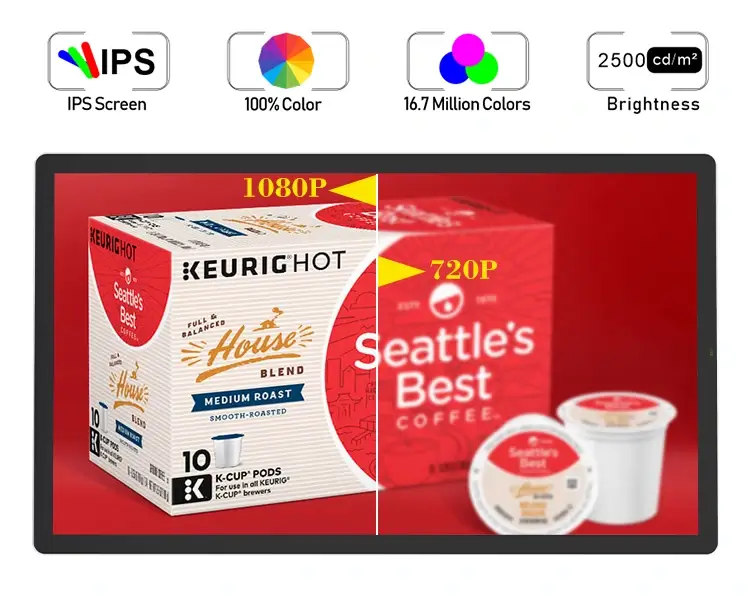 Horizontal and vertical display available
The screen mode horizontal mode and vertical screen can be switched according to the needs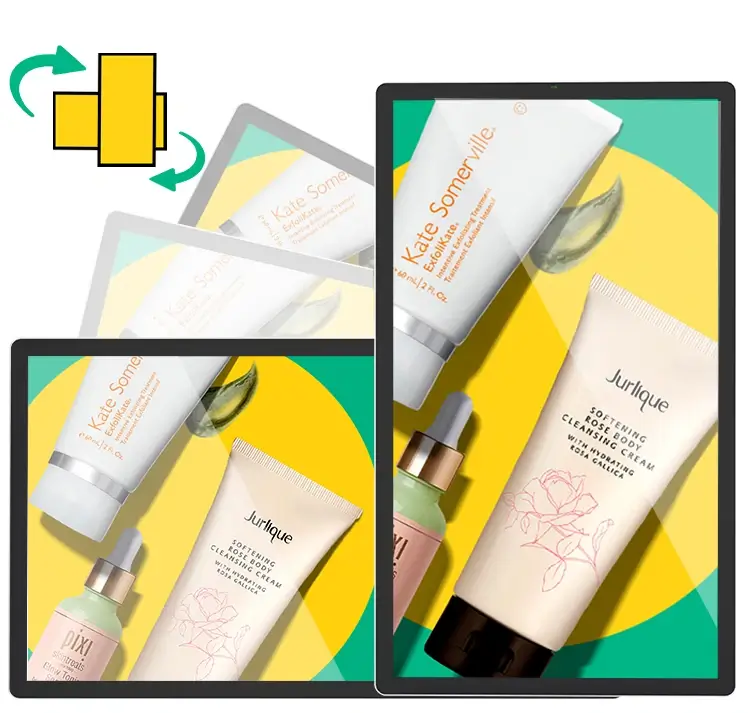 Support for multiple screens shared
Support split-screen mode through the software, backup, export-import ADS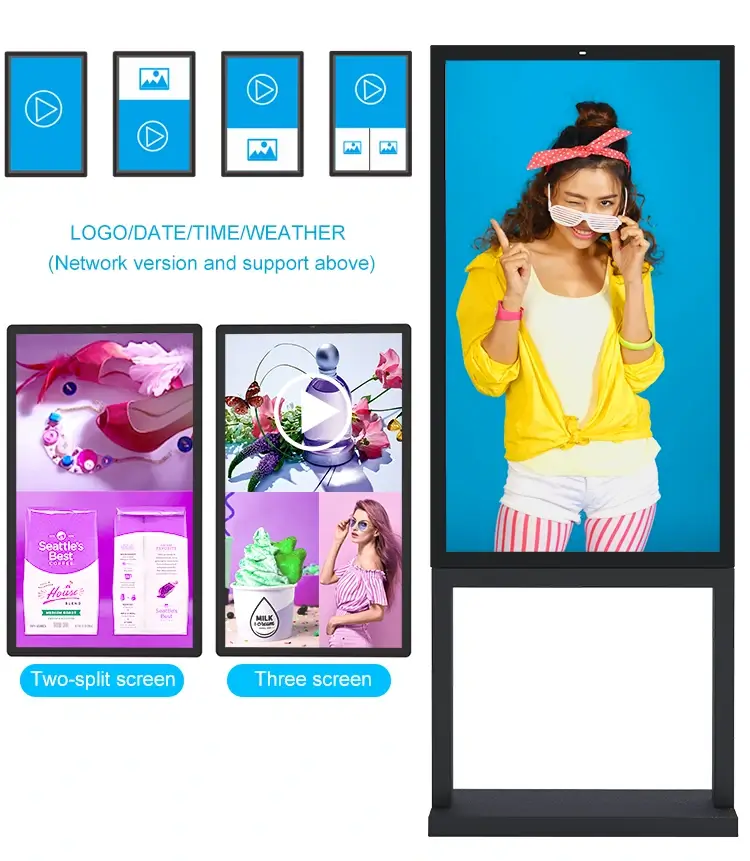 Digital signage outdoor ultra-slim IP66
It is lighter, thinner and more beautiful than the screens outdoor traditional.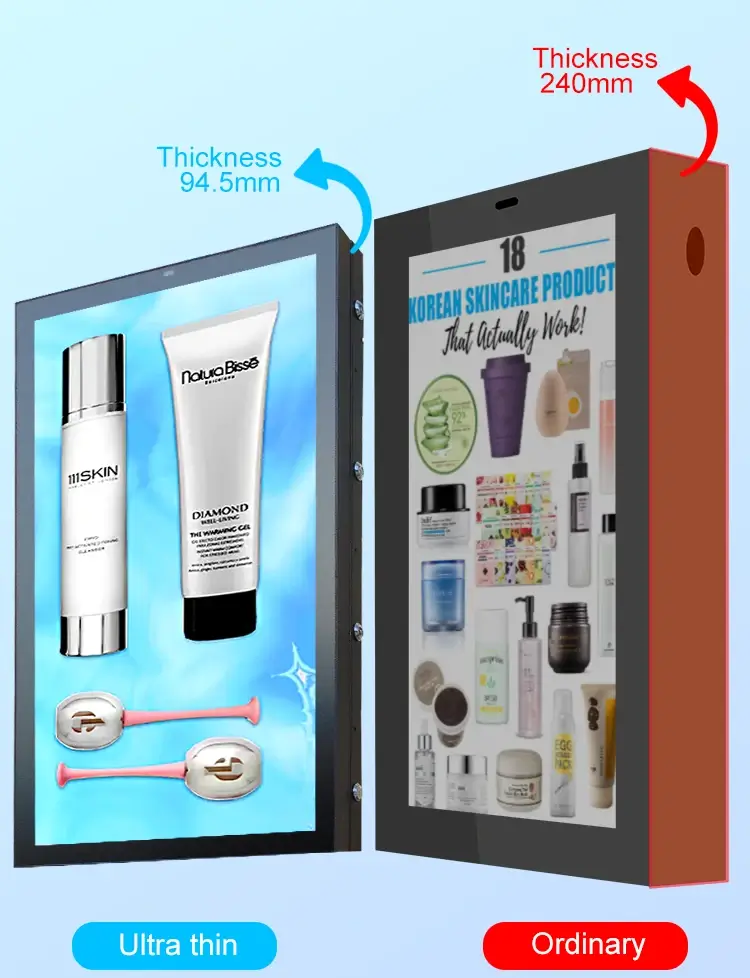 Technology of optical link full
Adopt the technology of optical link complete, more energy-efficient and more elegant than traditional models, with a better view.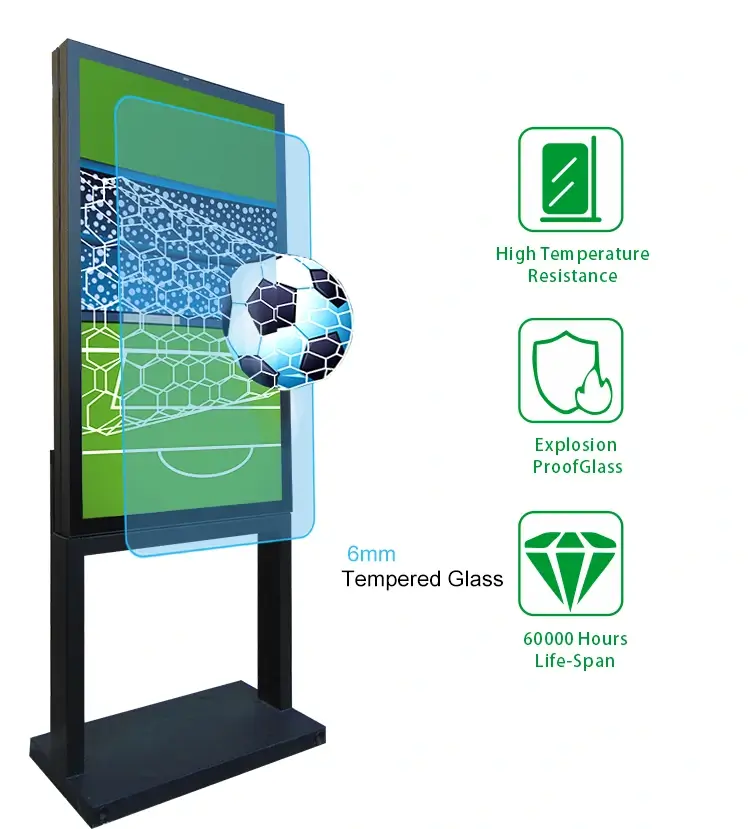 Light sensor smart
Can automatically adjust the brightness of the LCD screen according to the brightness of the external light, in order to minimize the energy consumption, save energy and protect the environment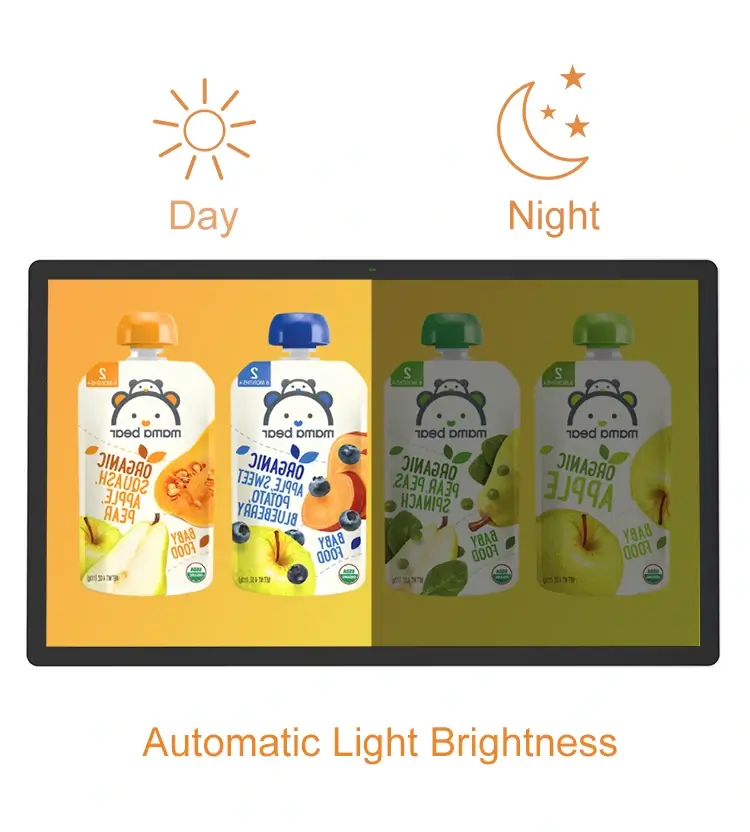 Structure design of ventilation quality
Adopts a structure design of ventilation of military grade. When the temperature of the
machine increases, it can cool down quickly without affecting the use of the screen.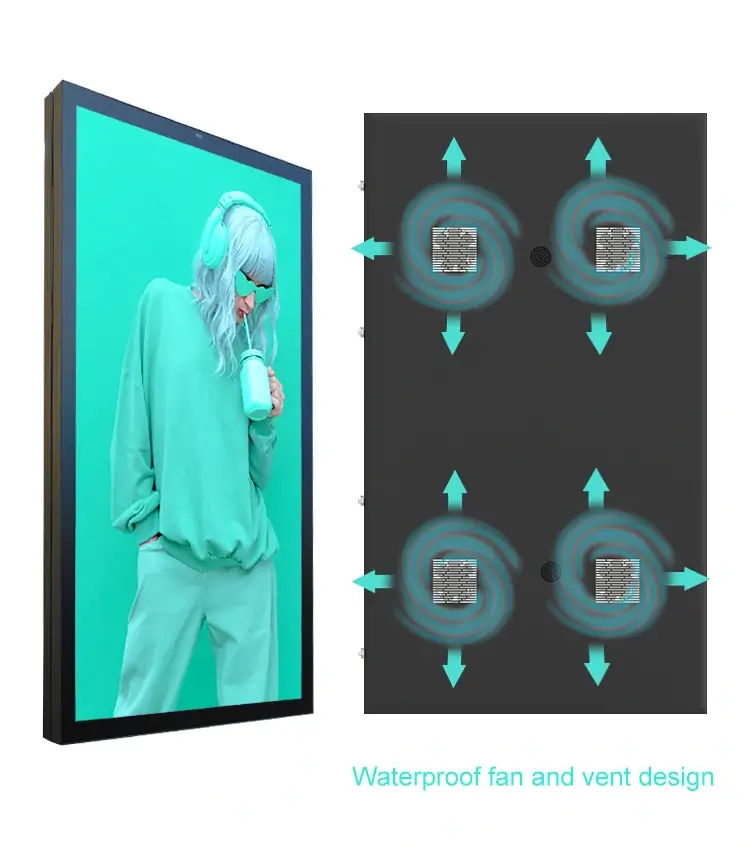 LCD screen
Adopt an LCD screen resistant to high temperatures and high-quality components,
the LCD display can operate at a maximum temperature of 110 ℃, the finished product can operate at a maximum temperature of 70 ℃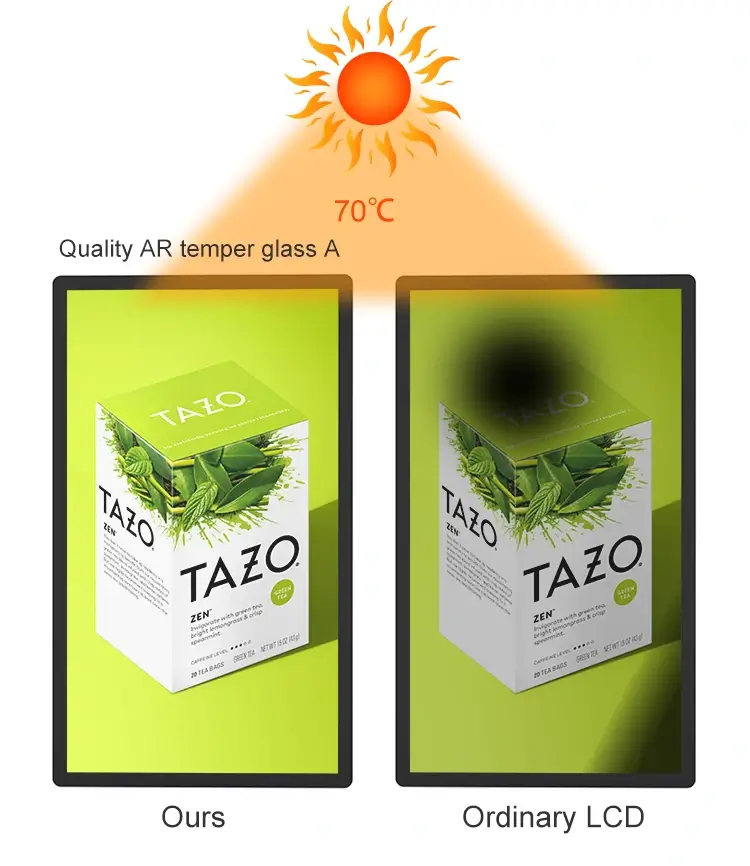 The 2 methods to install the wall hanging and the support on the foot
An image quality, which can display bright colors with more precision, and adapt to more of field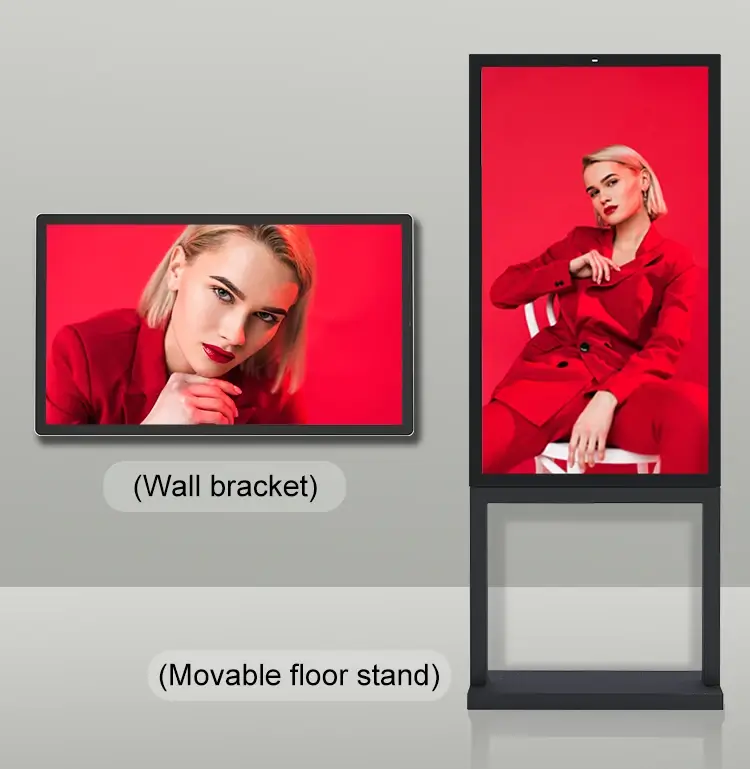 Product Photos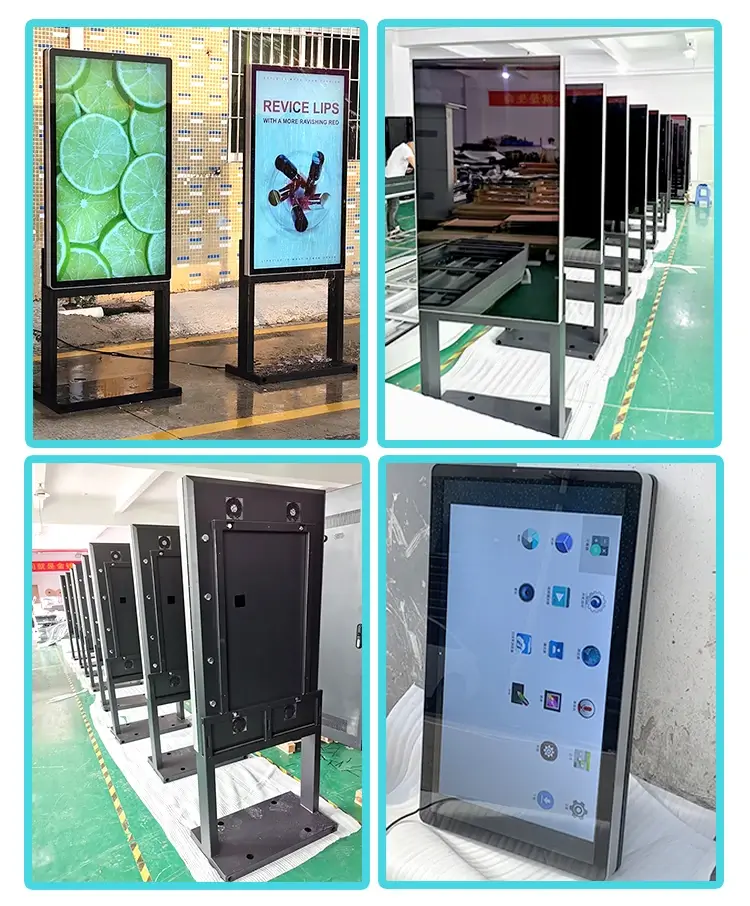 Popular Applications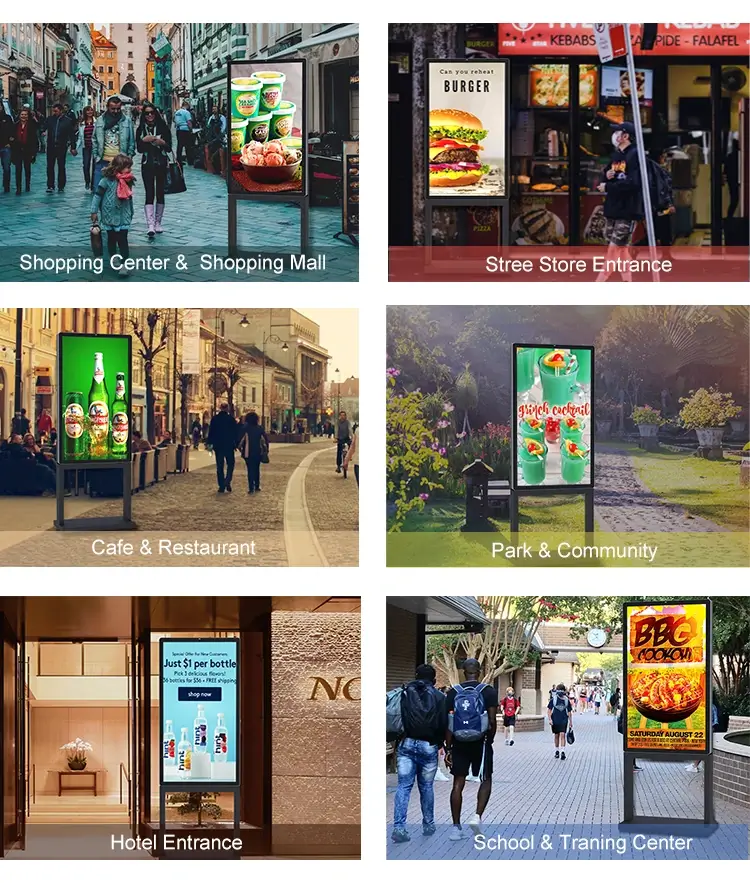 Panel
Display size (inch)
32"
43"
49"
55"
Resolution

1920×1080

(16:9)

1920×1080

(16:9)

1920×1080

(16:9)

1920×1080

(16:9)

Active display area(mm)

700.5(H)

x394.8(V)

941(H)*530(V)

1073.5(H) x

603.0(V)

1209.6(H)x

680.4(V)

Aspect Ratio
16:09
16:09
16:09
16:09
Brightness(cd/m2)
2000nit
2500nit
2500nit
2500nit
Contrast ratio (Typ.)
2000:1
Angle of view (H/V)
178/178
Color
16.7 M
Response time (G to G)
6ms
Opening hours
24/7
Sound
Speaker
5W, 8Ω (2 games)
Power
Type
Internal
Current Source
AC 100 – 240 V~ (+/- 10 %), 50/60 Hz
Power consumption
Max[W/h]
130W
180W
260W
300W
Standby Mode
less than 0.5 W
Stop
less than 0.5 W

Mechanical

Specification

Glass protection
Glass anti-reflection AR
Life of the housing
8 years
IP rate
IP66
Classification anti-hazard
IK10
Media Type
Wall / Ceiling / Freestanding
Environment
Operating temperature
-30°C ~ 80°C
Storage temperature
-30°C ~ 55°C
operating humidity
10 % ~ 80 %
Storage humidity
5% ~ 98%
Cooling system
Turboventilateur powerful and flow fan cross/air conditioning (optional)
IS
Media player Android
Processor
Rockchip® RK3288 (1.8 GHz, four cores)
RAM
2G
Glow
MEM 8G
USB
HOST USB2.0 (X2)
local area network
Ethernet 10M/100M (screen network version only)
External memory
8gb SD card (up to 32gb)
Multimedia
Video (MPG, AVI, MP4, RM, RMVB, TS), Audio (MP3, WMA), Image files (JPG, GIF, BMP, PNG)
Resolution media
1920*1080
Wi-fi
Ethernet 802.11 b/g/n (screen network version only)
System operator
Android 7.1
Certificate
Security
THIS
Accessories
Included
Scheduling software, Remote control, Key, power Cable, SD Card, wall mount
Quality Assurance
1 year
Type of packaging
Cardboard box/box with honeycomb + wooden crate