Description
INTRODUCTION
Le ViewStylus ACP501 est compatible avec le ViewBoard de ViewSonic, l'iPad et d'autres appareils à écran tactile capacitif. Il vous permet de prendre des notes, d'écrire avec précision et de rassembler des idées sans aucune difficulté. La technologie spéciale du ViewStylus ACP501 vous permet de profiter d'une sensation naturelle d'écriture semblable à celle d'un stylo. Sa conception intuitive rend tout cela facile. Il est prêt à l'emploi, sans couplage Bluetooth ni pilote. Sa réalisation a été pensée pour vous permettre de conserver un flux de travail fluide.
Avec l'ACP501, élargissez les possibilités et laissez libre cours à votre imagination.
Compatible avec le ViewSonic ViewBoard, l'iPad et d'autres appareils à écran tactile capacitif, Il vous permets d'anoter vos idées ,vos remarques et de stimuler votre inspiration.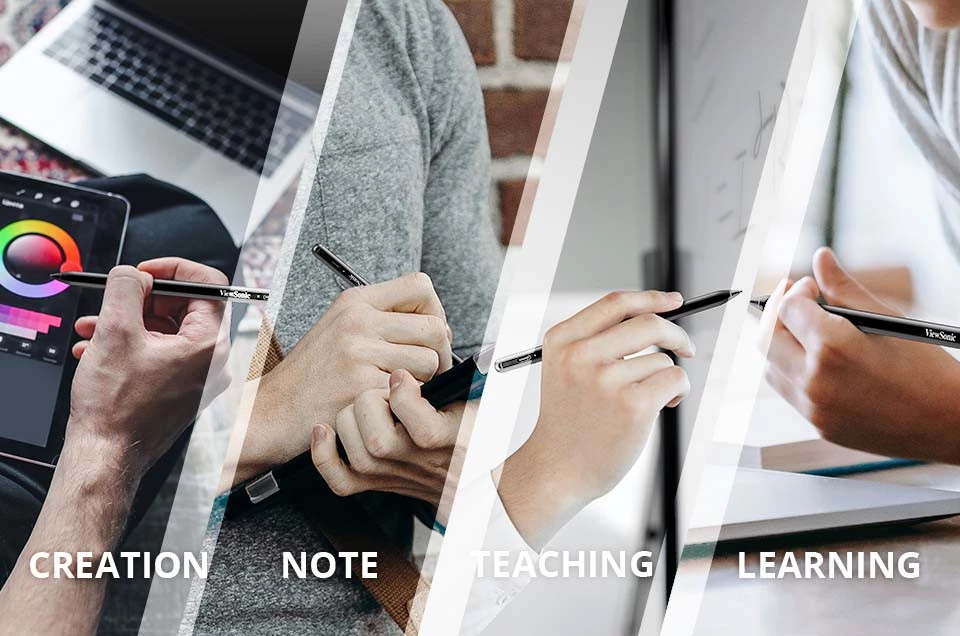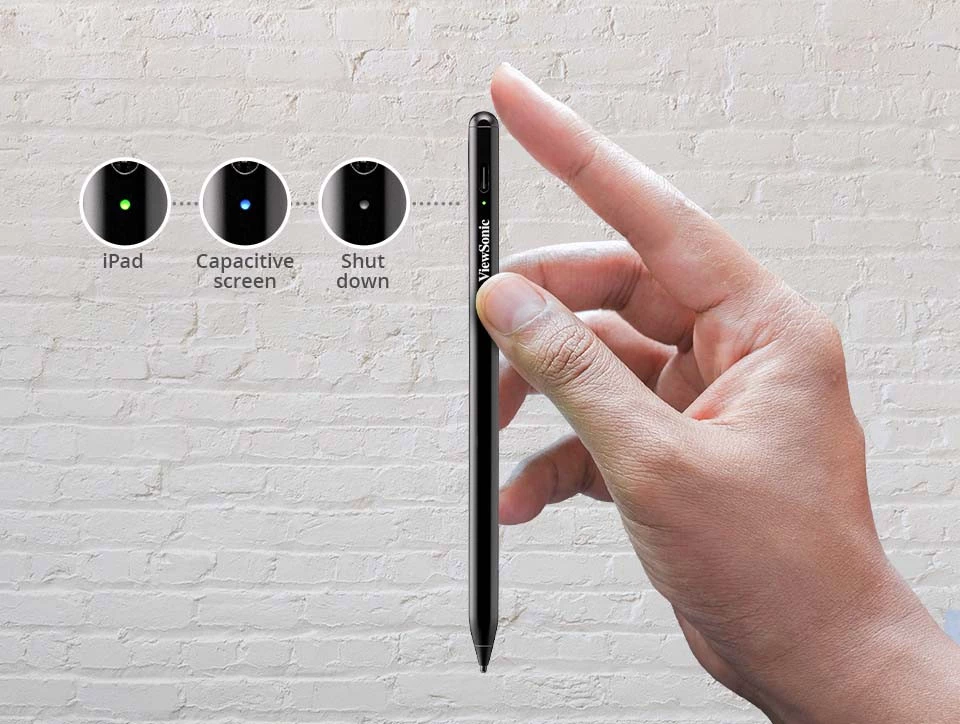 No configuration required
Pas besoin de connexion ni d'appairage, il suffit de toucher le haut du stylet pour changer de mode.
Satisfy all your needs
Qu'il soit utilisé avec le ViewBoard de ViewSonic, l'iPad, d'autres écrans tactiles capacitifs, ou les appareils capacitifs personnels des étudiants et des enseignants, l'ACP501 vous donne tout le contrôle dont vous avez besoin.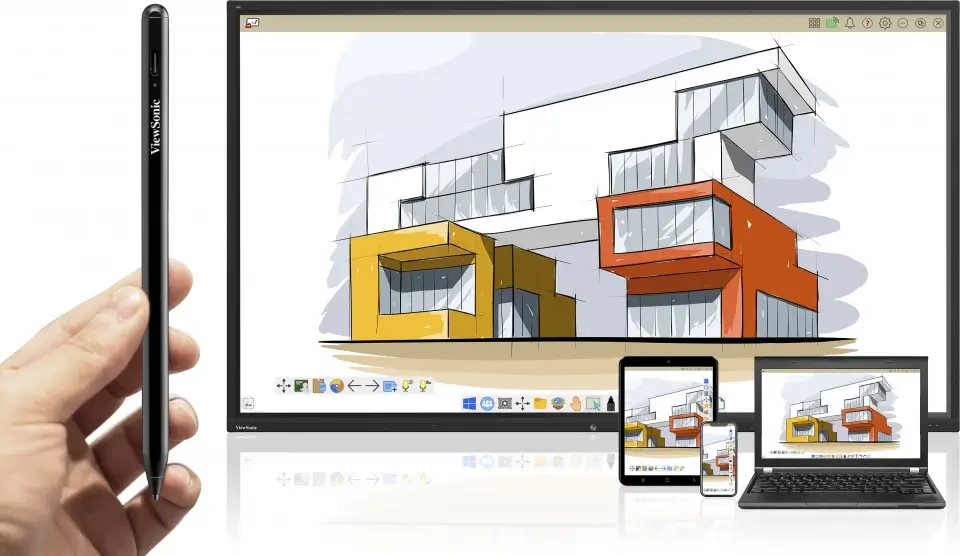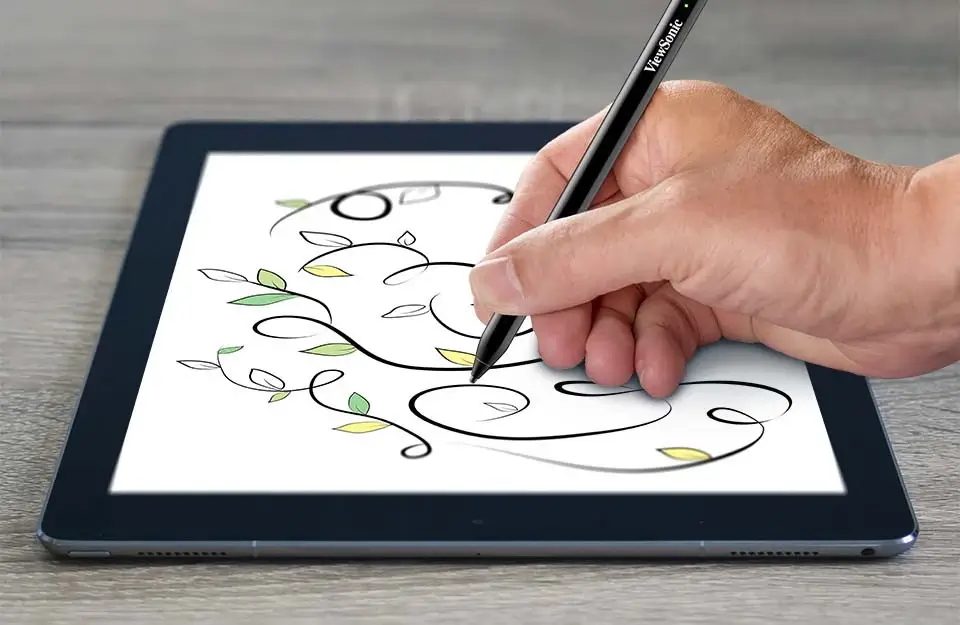 Une expérience d'écriture naturelle et exceptionnelle
La conception ergonomique de la forme du stylo, qui offre une prise en main confortable, et l'utilisation de technologies de sensibilité précise comme la détection de la paume, font de l'ACP501 un outil qui offre une expérience d'écriture confortable.
Magnetic mount, compact and easy to store
Doté d'un système de fixation magnétique, l'ACP501 se fixe à la plupart des appareils en métal, ce qui le rend facile à ranger et difficile à perdre.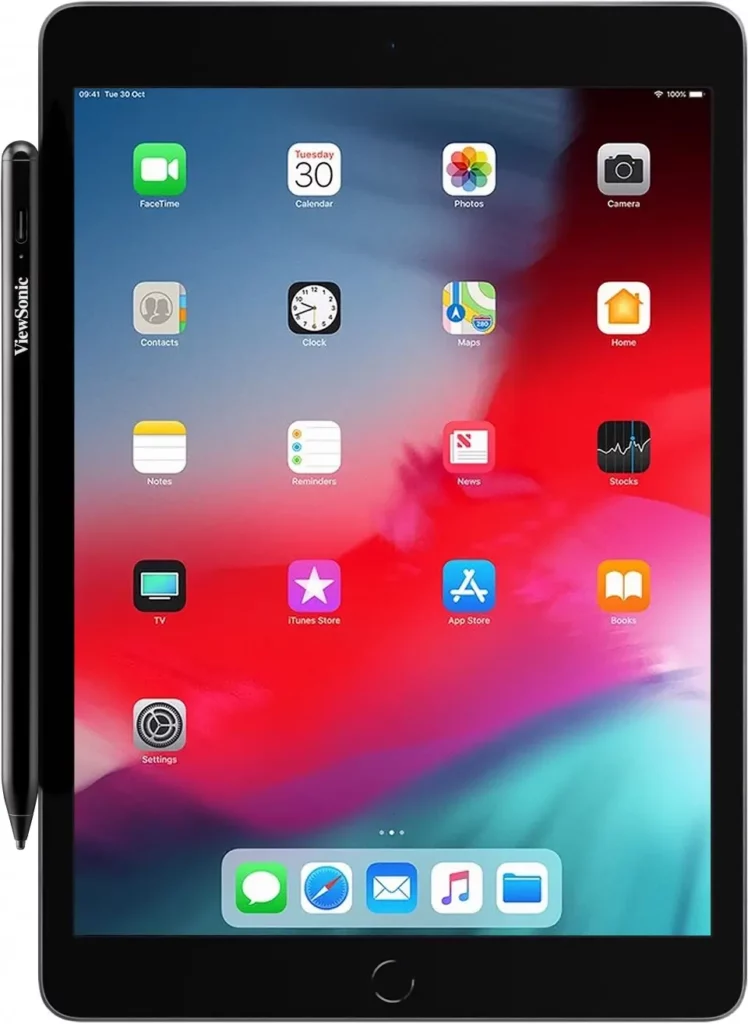 FAQ
Q : Comment puis-je passer d'un mode de stylo à l'autre ?
R : En tapant sur l'arrière du stylo avec votre doigt, vous faites passer le stylo du mode iPad (lumière verte) au mode Capacitif (lumière bleue).

Q: What do the lights of different colors ?
R : En cours d'utilisation-
Green light : fashion iPad
Blue light : device Mode capacitive

When loading –
Red light constant : Loading
Flashing green light : Low load
*La lumière s'éteint lorsque le stylet a fini de se charger.

Q: How to replace the tip ?
R : Pour retirer l'embout, dévissez-le dans le sens inverse des aiguilles d'une montre. Placez la pointe à la verticale, vers le haut. Retirez l'ancienne pointe, puis insérez la nouvelle pointe dans le corps du stylo. Revissez la pointe dans le sens des aiguilles d'une montre pour la fixer.

Q:Why can't I connect my ViewStylus ACP501 to my iPad ?
R : Il est possible que votre iPad soit apparié avec un autre stylet (Apple Pencil ou autre stylet). Veuillez vous rendre dans les réglages et vous déconnecter en appuyant sur "" Oublier ce périphérique "" sur votre iPad. Votre ViewStylus n'a pas besoin d'être appairé, mais assurez-vous de sélectionner le bon mode (lumière verte pour les iPad, lumière bleue pour les autres appareils à écran tactile).

Q: Combien de temps l'ACP501 met-il à se charger ?
R : Une charge complète prend environ 1,5 heure à partir de 0 % et durera jusqu'à 11,5 heures en utilisation constante.
*Note* Une charge de 10 minutes est tout ce qu'il faut pour environ 1 heure d'utilisation.
iPad:
iPad / iPadOS 12 and above

iPad Pro:
iPad Pro 10.5" / iPadOS 12 and above
iPad Pro 11" / iPadOS 12 and above
iPad Pro 12.9" / iPadOS 12 and above

iPad Air:
iPad Air / iPadOS 12 and above

iPad mini:
iPad mini / iPadOS 12 and above

*Compatibility and performance will vary among different devices

ViewSonic Touch Series Monitors:
TD2430
TD2455
TD2760

ViewSonic ViewBoard :
IFP20 Series
IFP4320

IFP62 Series
IFP6562
IFP7562
IFP8662

IFP70 Series
IFP6570
IFP8670

*The ACP501 has been designed for iPad use. Using it on a ViewBoard may cause premature wear of the nib. For extra ACP501 nibs, please contact your local reseller or customer service.
POWER

Load InterfaceF46:F60F46:F76F46:F63F46:F62F46:F61: Connectivity USB type-C
Voltage: 130mAh 5V/0.1 A
Load time: About 1.5 hours
Économie d'énergie: Auto logout after 5 minutes of standby
Durée de vie de l'alimentation: Jusqu'à 11,5 heures d'utilisation

WEIGHT

WEIGHT: 13.5 g

DIMENSIONS

Physical (mm): Length : 165.5 mm

Diameter : 9.00 mm