Preview VB-STND-007
The motorized cart, VB-STND-008 suitable for interactive flat screens ViewBoard ViewSonic 55", 65", 75" and 86" or screens comparable weighing up to 75 kg. 
Thanks to the built-in controls on the screen, the height of the cart can be easily adjusted. 
This can be done using the toolbar of the application ViewBoard, without interrupting the lesson. This train ride is designed for safety and equipped with wheels that silent 360°. 
This support allows you to move safely and in silence the screen ViewBoard from one room to the other for easy sharing of resources.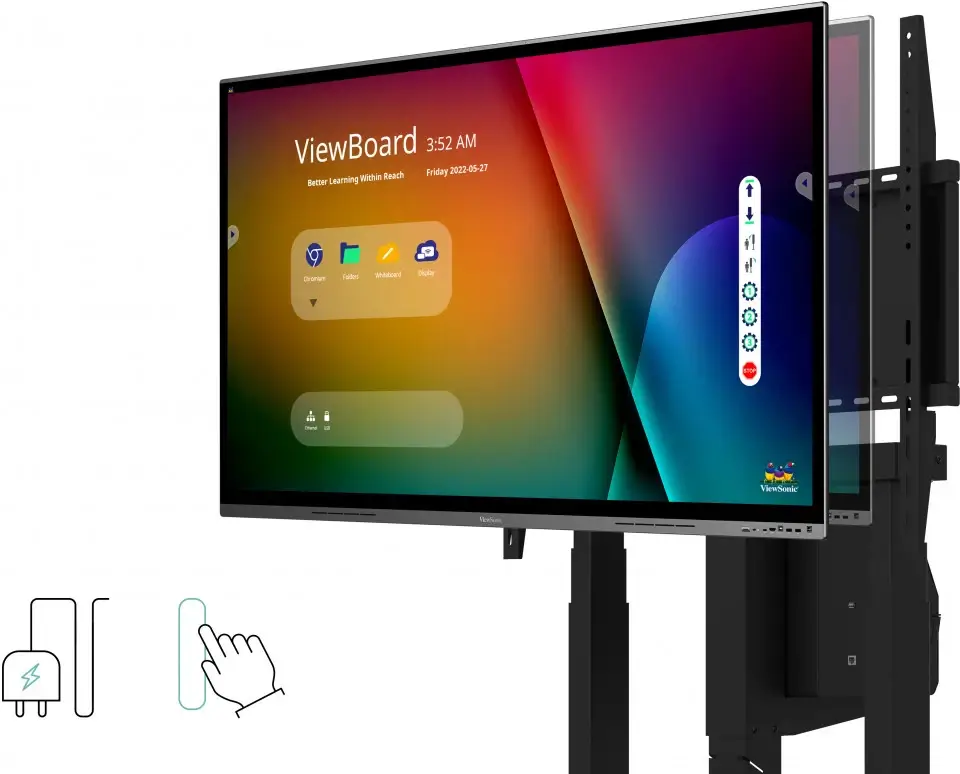 Integration of ViewBoard for a teaching easier
The motorized cart is not only used to adjust the height, but also serves as the power source for the ViewBoard. 
The connection and the compatibility of the control bar between the ViewBoard and the trolley facilitates the teaching without disruption.
Adjustable height for all ages
The motorized adjustment of the height increases the commitment to learning for all students by giving each a scope equal to the ViewBoard. 
The cart can be raised up to 22 inches (560 mm) in the control of a control pad, applications, ViewBoard or command buttons. This makes the class more intuitive and inclusive.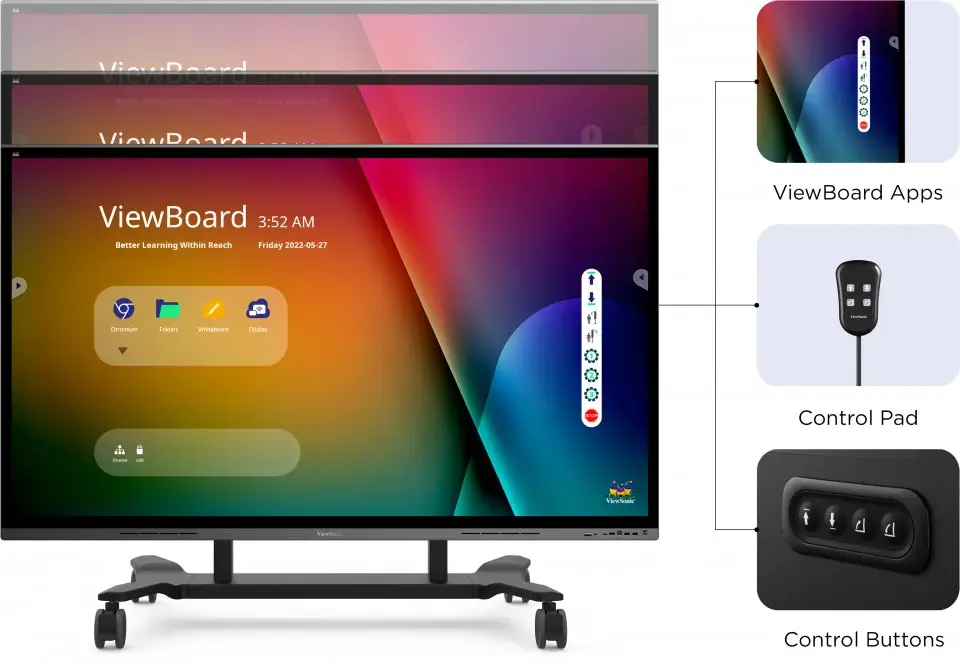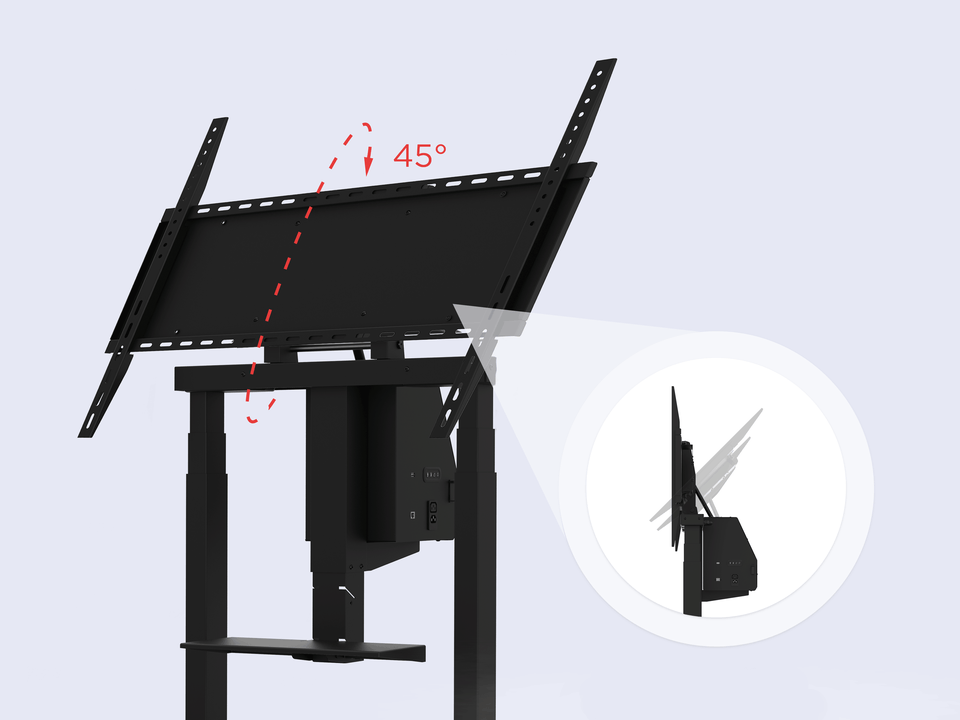 Flexible positioning for group learning
The tilt function electric allows the ViewBoard to be switched effortlessly between the vertical and horizontal position to better match the individual study, group activities or discussions team.
Designed to be accessible to all
Accessible design maximizes the learning opportunities for all students. 
The cart is designed to improve digital accessibility in the classroom. It allows users of any size and reduced mobility to easily interact with the touch screen.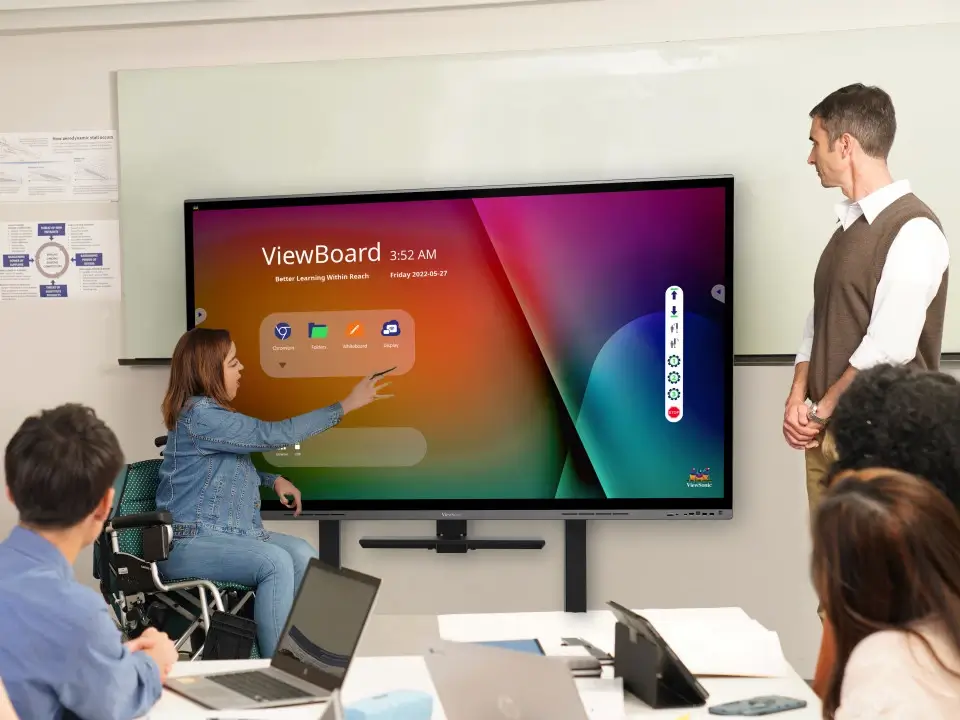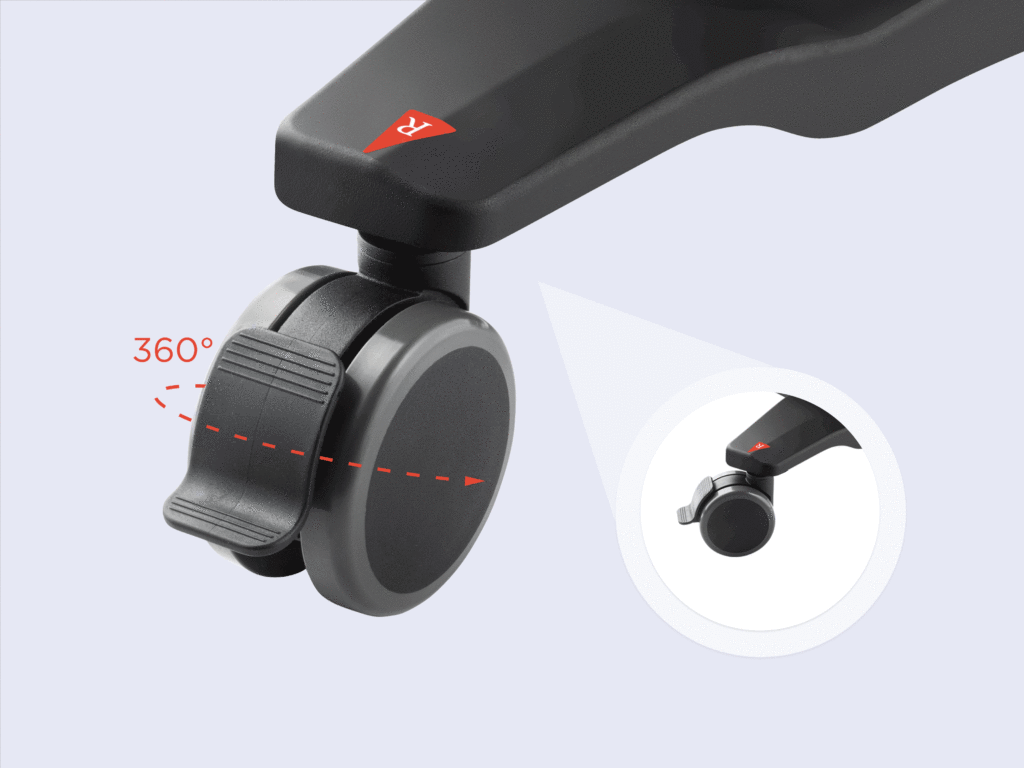 Wheels smooth and silent for easy movement
The large wheels that can rotate 360° roll smoothly and with ease. 
Movement within the classroom and the conference room do not interrupt the teaching or training of conferences, while the passage from one room to another and from one place to another is effortless and quickly.
Designed for a learning environment that is safe
The trolley is equipped with the latest security features. The vertical movement stops automatically when an obstacle is detected. 
This prevents possible injury to hands or fingers. The lockable castors eliminate the risk of tipping or moving the carriage.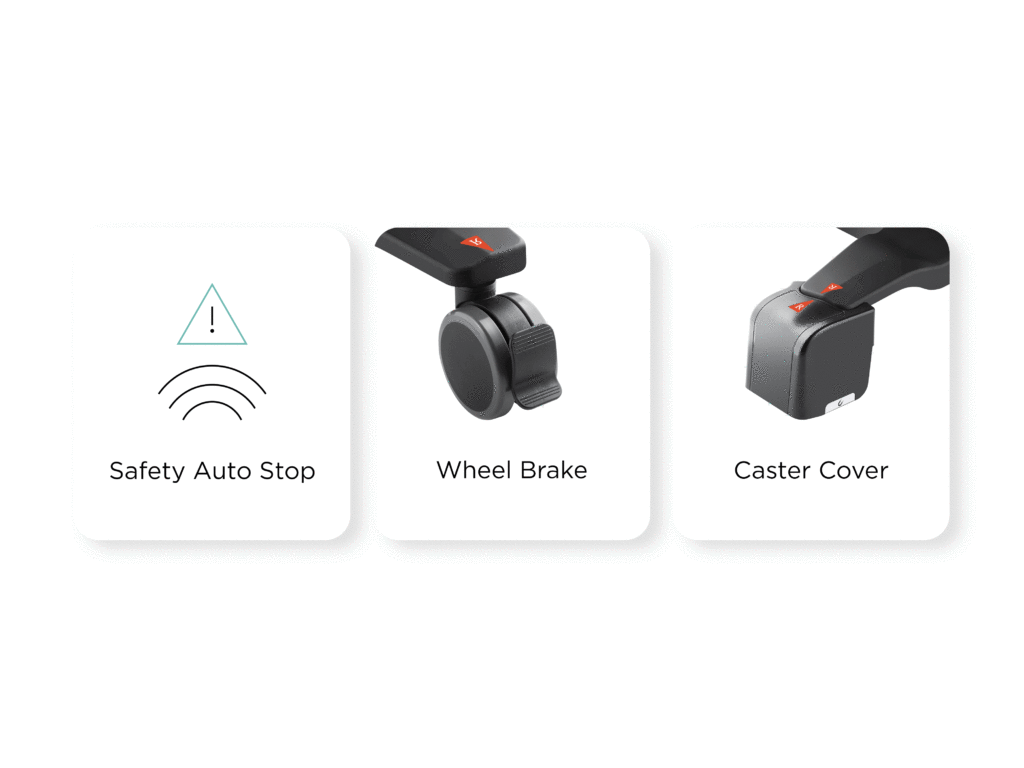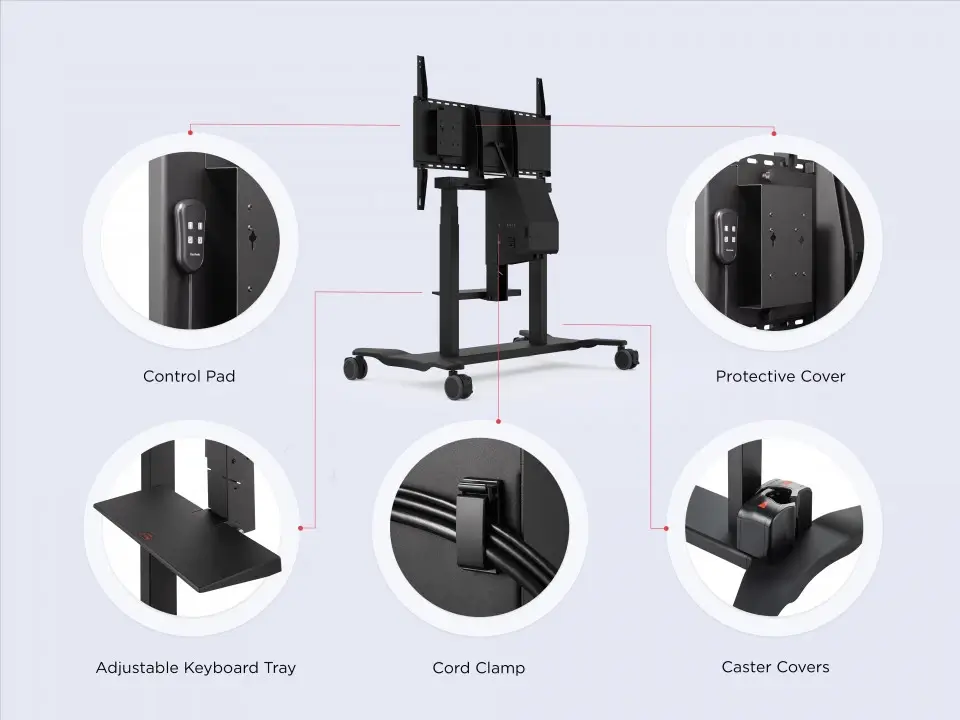 Designed to keep all your accessories organized
Each part of the motorized cart is designed to optimize the organization. 
The design of the cable solves the clutter of cords once and for all. 
Laptops, tablets and all other devices can be securely held on the keyboard tray adjustable. 
Finally, the control panel is magnetic, and the cover of the wheels can be placed in a convenient location that is easily accessible.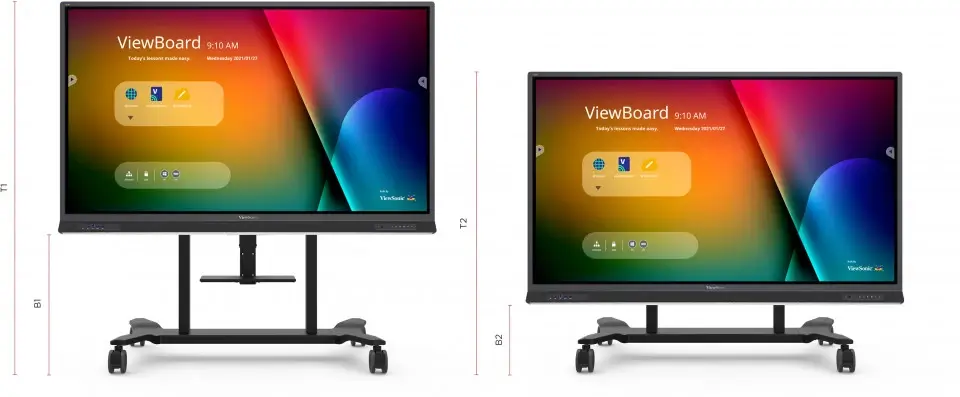 Information on the altitude, VB-STND-007
The trolley is suitable for ViewBoards 55", 65", 75" and 86". The information of elevation may differ depending on the model of ViewBoard.
| Table of visualization | 6552 | 7552 | 8652 |
| --- | --- | --- | --- |
| T1 | 82.99" | 85.24" | 84.02" |
| B1 | 45.35" | 43.11" | 36.46" |
| T2 | 52.17" | 56.30" | 61.97" |
| B2 | 14.53" | 14.17" | 14.41" |

Cover wheel

Wheel brake

Keyboard tray

Clamp cord

Control button

USB

RJ45

AC output

AC in

Protective cover
Ergonomics

rotary :

 360

Adjust the height ::

 560mm

Wall mounting

Material

Aluminum alloy, Plastic, Steel
Loading

Wall bracket :

 75 kg / 165 lbs max

Table :

 10 kg / 22 lb max

Dimensions

Physical (Wxhxd) :

 1248,9 x(1330,7~1890,7)x706 (mm) / 49,17 x(52,4~74,44)x28,19 (in)

Packaging (W X H X D) :

 1150x490x1010 (mm) / 45,28×19,29×39,77 (in)

Lester

Net :

 64 kg / 141 lbs

Gross :

 73,3 kg / 161,6 lb

Compliance

cTUVus, FCC/ICES-003, EMC/CE , CB/LVD, RCM, Mexico nom , RoHS , ErP, REACH, WEEE

Items in the inbox

1. Control Pad

2. Cordon d'

power supply 3. Ac adapter cord

4. USB adapter cable

5. Bag of screws

6. Main hook (x2)

7. Quick start Guide

8. Declaration of conformity