Description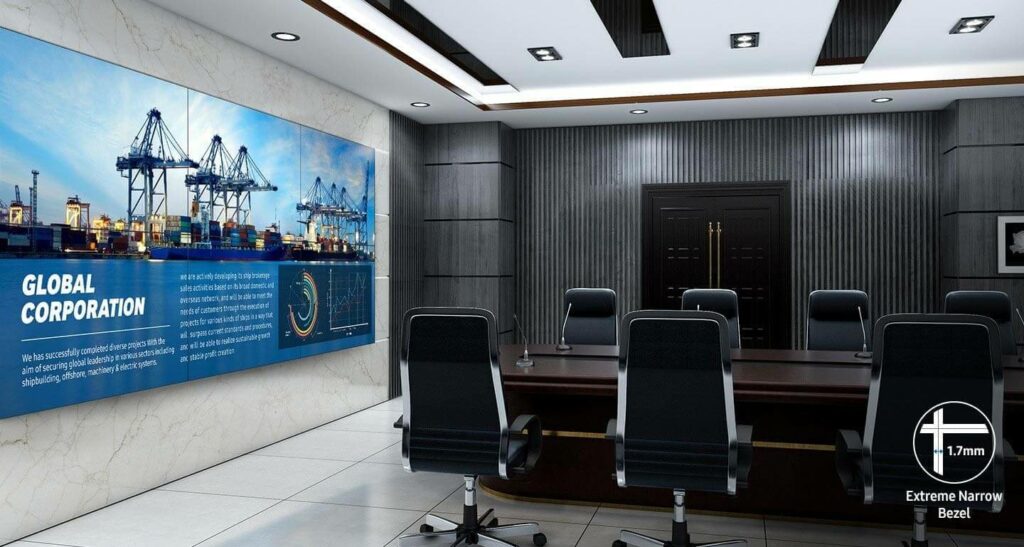 Provide a visual impact deep
The video wall with narrow bezel Samsung has a width of bezel to bezel 1.7 mm that minimizes the visual distraction of video walls to elicit striking images of the products. The display produces an image of almost homogeneous across multiple screens without interruption, captivating and impressing the customers.
Amplify image clarity in any environment
Combined with a panel anti-glare, the screen video wall with super narrow bezel is designed to help businesses create a content presentation memorable even under ambient light. This panel evenly distributes light throughout the screen, eliminating glare while maintaining the brilliance and accuracy of the content.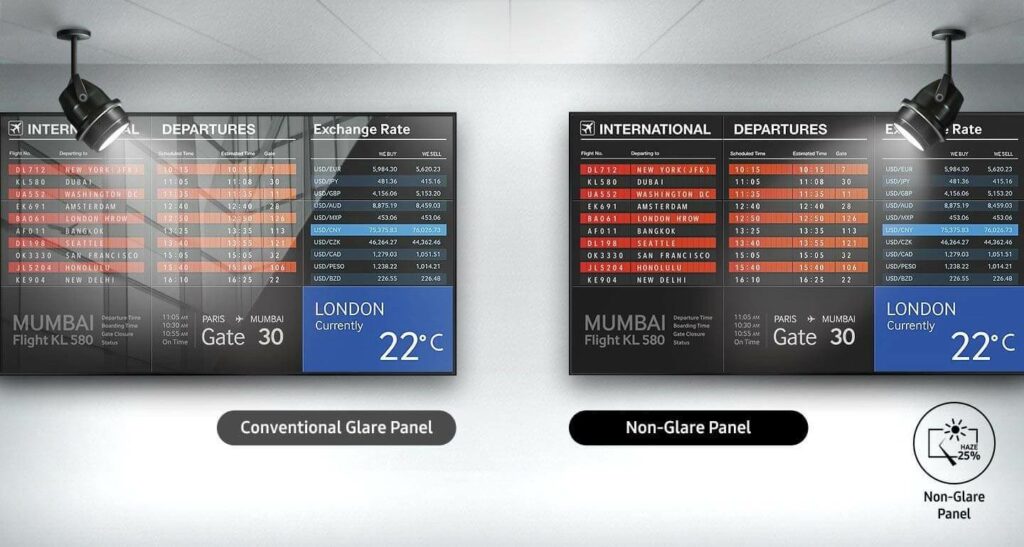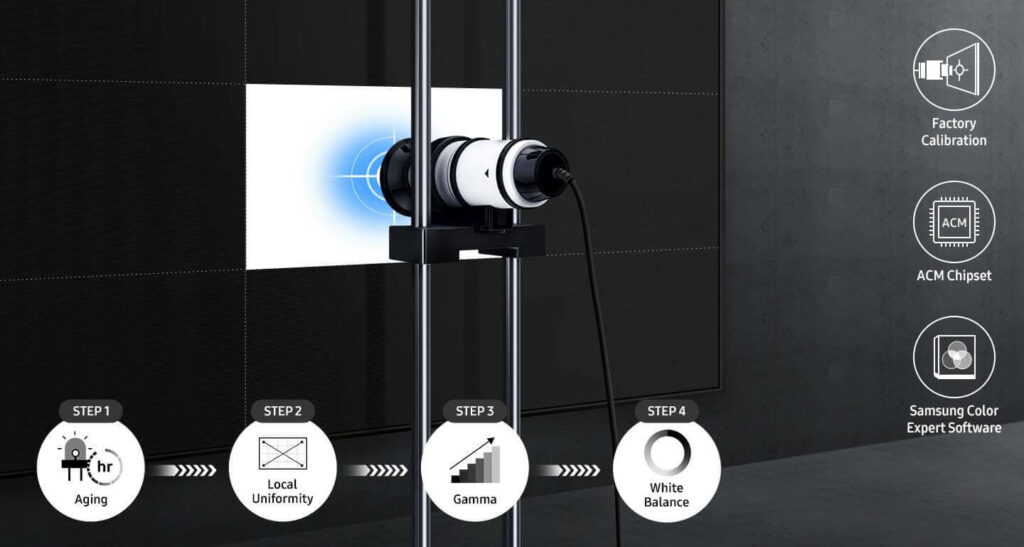 Share accurate and uniform
The calibration process at the factory in several stages of Samsung rule the video walls for brightness and colour across multiple screens. In addition to careful calibration in factory, the users can also manage brightness and color uniformity with Color Expert Pro Samsung, a powerful free software.
Calibration mobile economic simplicity
The solution Color Expert Pro Mobile Samsung makes calibration quick and easy video wall via a mobile camera. Thanks to the intuitive user interface of the solution, even non-experts can simultaneously adjust the white balance up to 5×5 video wall without the need for additional equipment.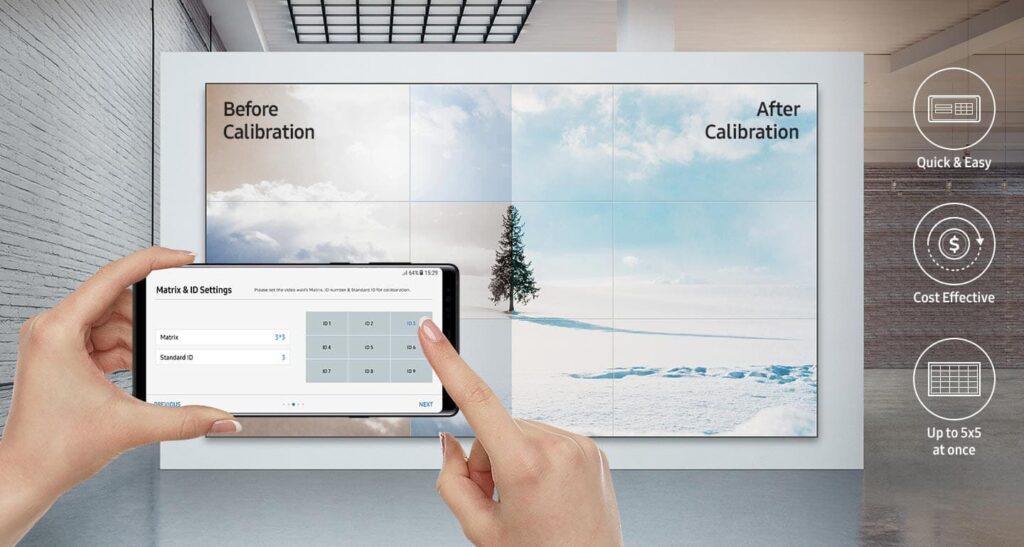 *Some models may require the use of a PC and the software Color Expert Pro to calibrate the screens.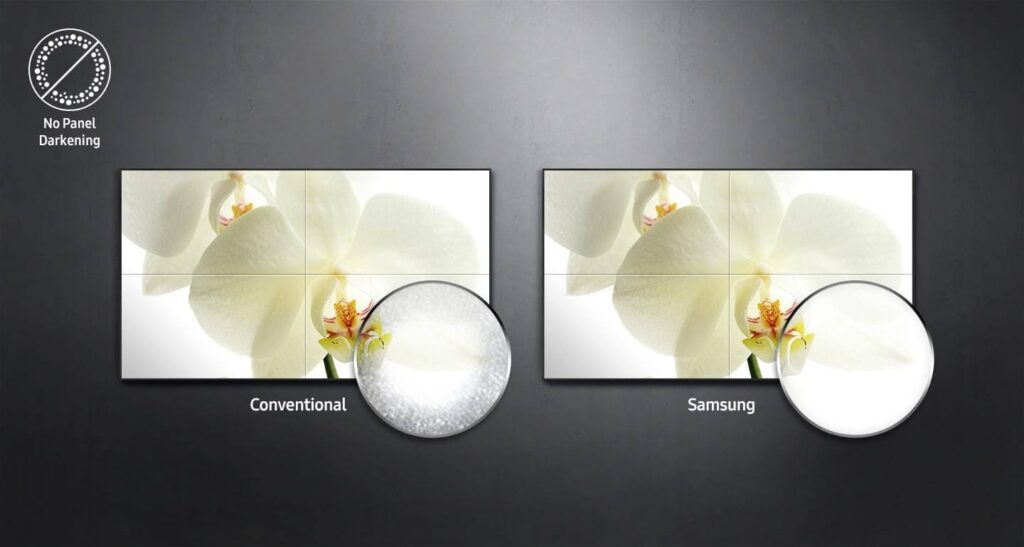 Enjoy consistent performance and long-term
Video walls super narrow bezel Samsung are designed for long-term performance, eliminating maintenance expenses for users. The screen has panels that are sustainable and compensate for variations of backlight while protecting simultaneously the screen from exposure to heat and dust.
Dissemination of reliable content for businesses
Designed to maintain performance in various indoor environmental conditions, video wall-Samsung's product in an appealing visual experience with contrast ratios and brightness levels. With continuous operations, 24 hours on 24, 7 days on 7, the screen enables the dissemination of content lively and reliable for all the needs of the business.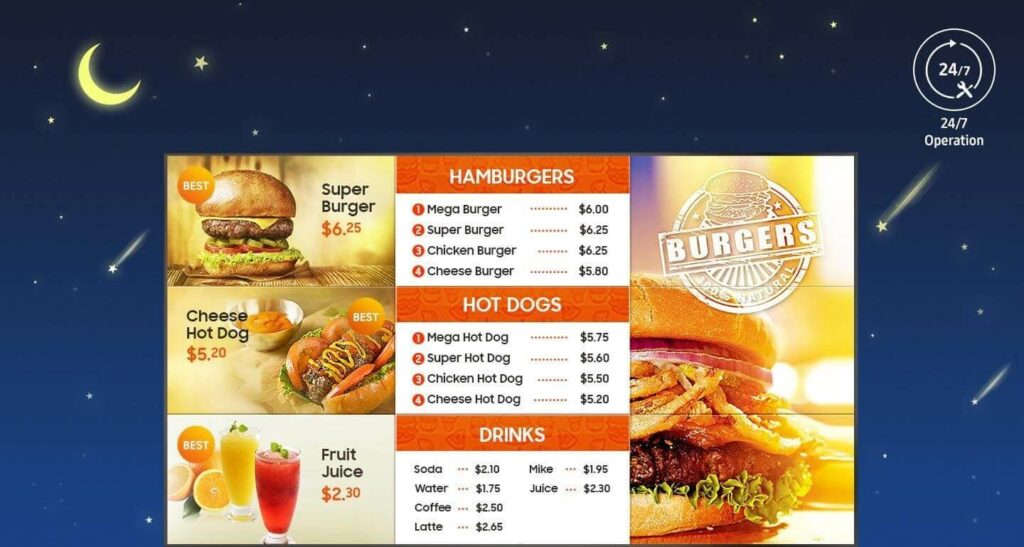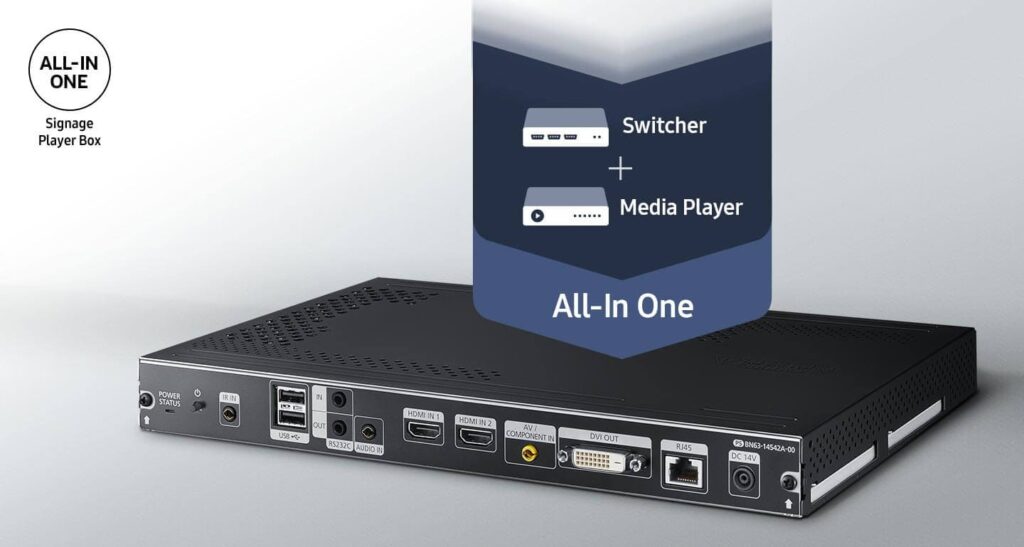 Box all-in-one with a multi-purpose use
Supported by a Quad-Core processor, Signage Player Box allows you to switch multi-sources and a media player to co-exist in a single housing. Leveraging the platform, the Samsung SMART Signage integrated, the box transforms video walls for a faster processing of information and easy to manage the content with the solution, MagicINFO.
Wall mounts highly configurable
The wall brackets with special user-friendly ensure easy installation of video walls in a minimum of steps. Sized to the dimensions of the video wall, the wall mount allows users to install the mount first and fit the video wall, eliminating the need for efforts tedious to measure and adjust the size of the wall bracket.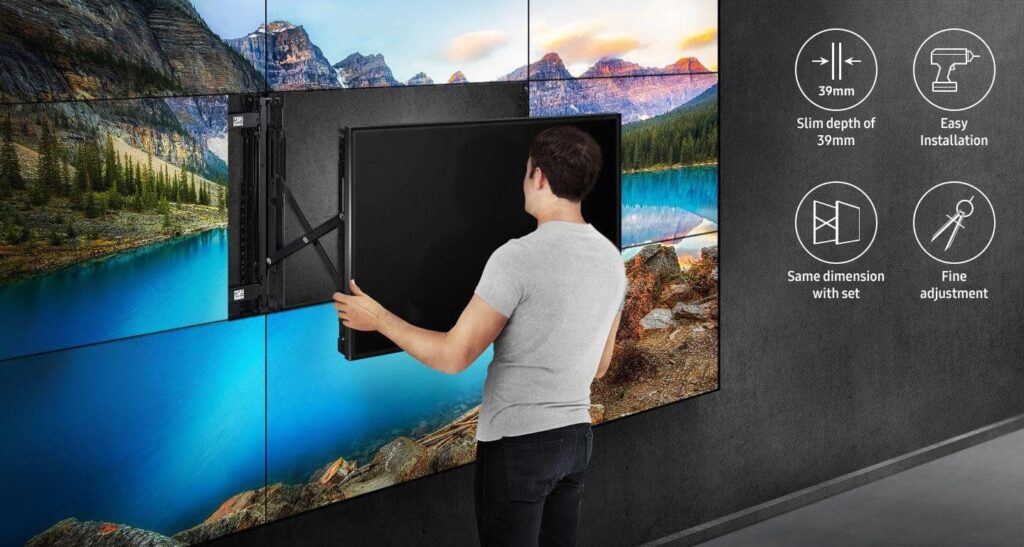 Panel
Diagonal size55"
TypeD-LED DID
Resolution1920*1080 (Full HD)
Pixel pitch(mm)0,63 mm (H) * 0,63 mm (V)
Active display area(mm)1209,6 * 680,4 mm
Brightness (Typ.)500 nits
Contrast ratio4000:1
Angle of view (H/V)178/178
Response time (G to G)8ms
Display colors8 bit – 16.7 M
Range of colours72%
Opening hours24/7
Mist25 % (haze outdoor 23 %)
Display
C/R dynamicMEGA DCR
Scanning frequency H30kHz ~ 81kHz
Scanning frequency V48Hz ~ 75Hz
Frequency of pixels maximum148,5 MHz
Connectivity
Enter
RGBD-SUB analog, DVI-D, Display Port 1.2
VideoHDMI 2.0 (2)
HDCPHDCP 2.2
audioMini-jack stereo
USBUpgrade F/W only
Production
RGBDP1.2 (loop-out)
audioMini-jack stereo
External controlRS232C (in/out), RJ45
External sensorType detachable (IR, ambient)
Power
TypeInternal
Current SourceAC 100 – 240 V~ (+/- 10 %), 50/60 Hz
Power consumption
Max[W/h]143
Typical[W/h]120
BTU (maximum)488
Standby Modeless than 0.5 W
Stopless than 0.5 W
Specification mechanical
Dimensions (mm)
Set1211.6 X 682.4 X 96.3
Package1355 X 809 X 320
weight (kg)
VESA mount (mm)600 * 400 (mm)
Width bezel (mm)A 1.15 mm (U/L), 0.55 mm (R/B)
Operation
Operating temperature0,0 ℃ ~ 40,0 ℃
Humidity10,0 % ~ 80,0 %  
Characteristic
Main featuresBezel extremely close
OrientationN / A
Remote controlN / A
Special featuresSupport for ACM (advanced color management), switching, and automatic recovery of the source, haze 25 %, temperature sensor, RS232C/RJ45 MDC, Plug and Play (DDC2B), video wall (15 x 15 (OSD)), daisy-chain connection of the video wall (10 x 10), Display swivel, image rotation, button lock, digital daisy chain DP 1.2 (supports the resolution UHD, HDCP support), update Smart F/W, battery clock (maintenance of the clock 80 hours)
Internal drive
ProcessorN / A
Cache memory on-chipN / A
Clock speedN / A
Interface main memoryN / A
GraphN / A
Storage (FDM)N / A
MultimediaN / A
I/O PortsN / A
Certificate
SecurityUL (USA) : UL 60950-1 CSA (Canada) : CSA C22.2 No. 60950-1 TUV (Germany) : EN60950-1 NEMKO (Norway) : EN60950-1 KC (Korea) : K60950-1 CCC (China ) : GB4943.1-2011 PSB (Singapore) : IEC60950-1 GOST (Russia) : IEC60950-1, EN55022 SIQ (Slovenia) : IEC60950-1, EN55022 PCBC (Poland) : IEC60590-1, EN55022 nom (Mexico) : nom-019-SCFI-1993 IRAM (Argentina) :IEC60950-1 SASO (Saudi Arabia) : IEC60950-1
EMCFCC (USA) FCC Part 15, Subpart B class A CE (Europe) EN55022, EN55024 VCCI (Japan) V-3 (CISPR22) KCC (Korea) :KN22, KN24 BSMI (Taiwan) : CNS13438 (CISPR22) C-Tick ( Australia) : AS/NZS3548 (CISPR22) CCC (China) : GB9254-2008, GB17625.1-2012
Accessory
IncludedQuick setup Guide, warranty card, DP cable, stereo to DB9, power cord, remote control, batteries,
Optional
SupportN / A
MountWMN-55VD
SpecialtyN / A
Media player
Media player
Media playerSBB(Slide In), Box signage player