Description
The all-new built-in media player powered by TIZEN™ PM32F
The new SMART Signage 2016 that supports SSSP 4.0 allows for a performance stronger, faster and more stable than its previous models. Transcending the hardware performance of the past, the new SSSP 4.0 enables CMS partners to develop and deploy advanced Web applications which can help to effectively manage content and signage SMART for their clients.

◆ Powerful performance
1) 3D graphics Engine enhanced
Experience dynamic content by enhancing 3D graphics performance while the text scrolling appears smooth and the display offers a level of robustness that can even support 3 movies playing simultaneously on a single screen.
2) enhanced Security
The applications, platform and system are all supported by TIZEN OS and architecture of holistic security provides stability and high security through 3 layers of supplementation.

◆ Easy development
The possibility of further development of the solution is facilitated, thanks to various development tools such as SW Development Kit (SDK) or Remote Web Inspector (RW). In addition, as it is an open platform based on Web standards, it is highly compatible with HTML5.

◆ User-friendliness simple
user-friendliness is achieved through a user-friendly interface while Web browsers are able to display a homepage without the need to develop a Web application. The user screen SSSP 4.0 has also been improved (new user interface of the host) and quick access for Web apps is supported through the launcher URL.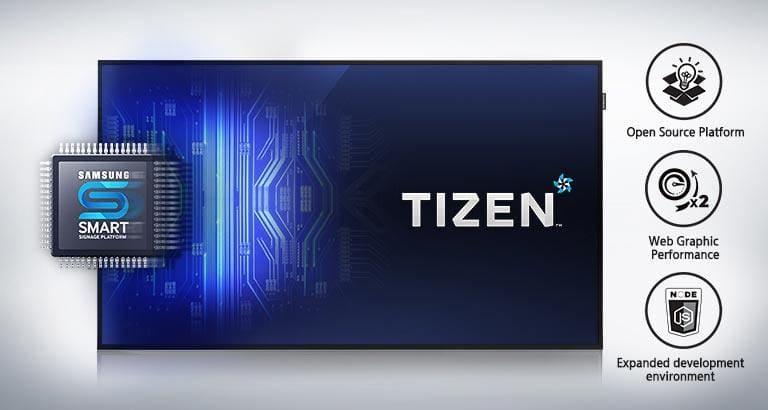 Offering robust options for the tools of creation, scheduling and deployment of content PM32F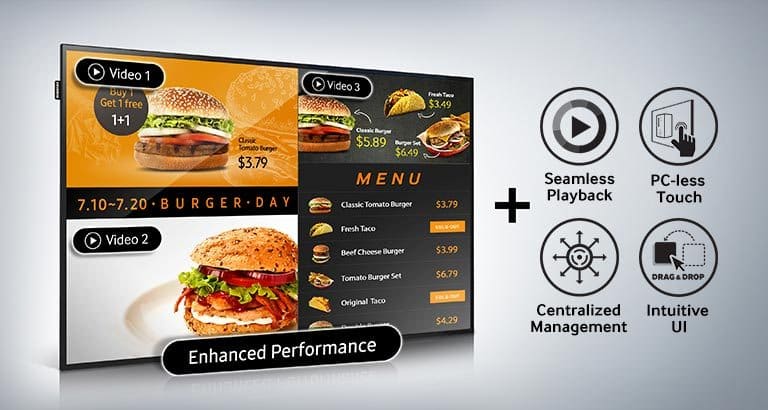 Key Aspect of the enhanced platform SSSP 4.0 based on TIZEN, MagicInfo Player S4, Samsung allows users to take full advantage of the power of their display network from any location through a centralized server. More useable than ever, MagicInfo Player S4 merges a backup drive dedicated with capacities of content broadcast DataLink to reduce the effort needed to share vital information.

◆ Powerful performance
With MagicInfo Player S4, the new graphic engine applied to SMART Signage 2016 increases the display performance overall while ensuring seamless transition of content and a scroll fluid of the text ticker. During this time, the high-resolution images (max. 5120 X 5120) are supported and more than 100 text boxes are available.

◆ User-friendliness simple
More than just a media player, it also functions as a content management solution advanced that can allow you to play media files, set and edit hours of multimedia playback, as well as configure the display as a video wall and control device through the use of its WiFi connection. , on/off timer and more. The graphical user interface the newly designed allows for enhanced ease of use and management capacity of local content.

◆ Total Solution The
server Samsung MagicInfo has also been redesigned and upgraded to version 4.0. The server software MagicInfo is a content management software specialist, which allows large organizations to manage multiple digital signage through a single server-integrated. The organizations can also remotely monitor and manage the smart-signaling from a centralized location.
Check out the screens that go beyond the previous limits of slim design PM32F
Benefiting from the design depth of the thinnest in the industry (29,9 mm), the new screens stand-alone series, the PHF and PMF Samsung provide a signage solution compact but solid for environments limited by space or configuration. Available in a range of sizes (models 43, 49 and 55 inches available for signaling the PHF and PMF, with an additional model 32 inch available for the series MFP), these screens are autonomous have a configuration with a narrow bezel to further maintain viewers ' attention on the content to the screen.

* The specification by model such as size, brightness, and time of operation are different. See the specifications table for more details.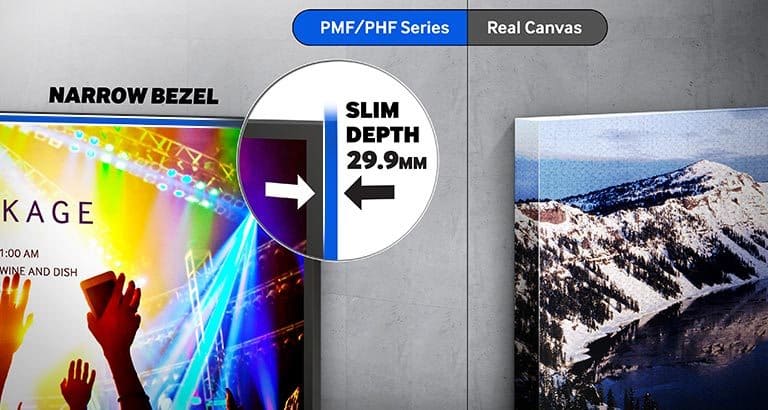 Unlock easier and more flexible thanks to an infrared receiver centralized PM32F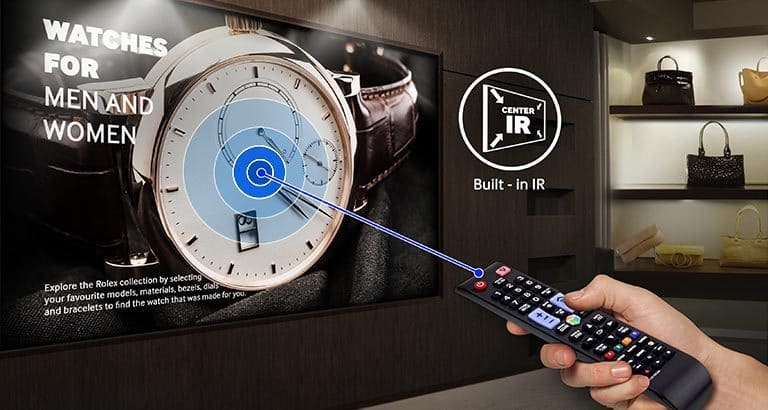 The infrared receiver centralized (IR) integrated with screens, autonomous guarantees a user control easier and more flexible. All models can receive the IR signal on individual panels via Central IR. Thanks to an installation or mounting, the users can browse the functionality IR from various locations, further increasing performance without interruption.
Put an end to the glare and always be assured of a visibility and readability in high PM32F
Equipped with a front panel anti-glare screen series PHF and PMF reduce the interference of natural light and room to ensure readability continues in any place. Image visibility and readability of the information is considered to be very high, because they are less reflective under light or sunlight, which poses no problem when they are used with arrays of menu QSR or arrays of any flight airport with plenty of natural light.

* The specification by model such as size, brightness, and time of operation are different. See the specifications table for more details.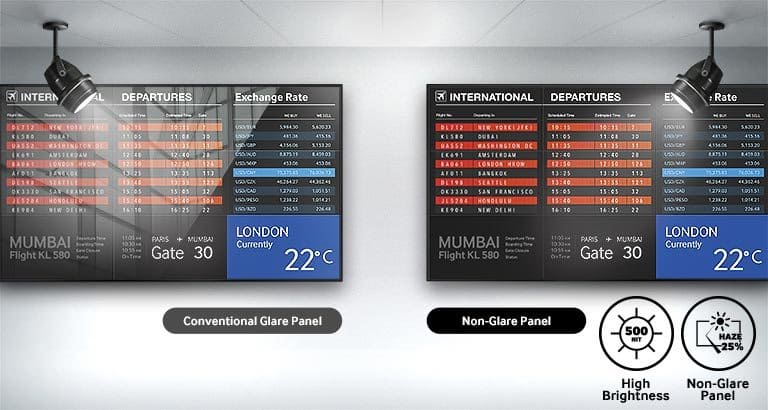 Put your worries to rest knowing that your display is protected from a range of environmental conditions PM32F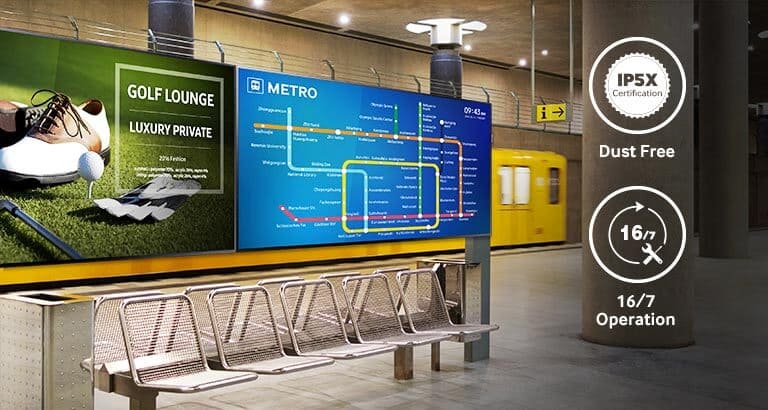 All new screens autonomous PMF and PHF Samsung are certified for IP5x, which means their design is resistant to dust and their ability to withstand a range of environmental conditions.
The certification alleviates concerns about dust accumulation on the screens installed on subway trains or on external platforms. Customers can easily use this screen certified IP5x without having to prepare an extra box in dusty places. The dissemination of uninterrupted content 16/7 is always ensured, whatever the conditions, natural or interactive surrounding.
PM32F Specifications
Panel PM32F
Diagonal size32"
Type60 Hz E-LED BLUE
Resolution1920*1080 (Full HD)
Pixel pitch(mm)0,360(H) x 0,360(V)
Active display area(mm)698,4 (H) x 392,85 (V)
Brightness (Typ.)400 nits
Contrast ratio5000:1
Angle of view (H/V)178:178
Response time (G to G)8ms
Display colorsDithering 10 – bit 1.07 billion
Range of colours72%
Opening hours16/7
Mist2%
Display
C/R dynamicMega
Scanning frequency H30 ~ 81 kHz
Scanning frequency V48 ~ 75HZ
Frequency of pixels maximum148,5 MHz
Sound PM32F
Speaker TypeBuilt-in speaker (10 W + 10 W)
Connectivity PM32F
Enter
RGBDVI-I (D-Sub common), Display Port 1.2 (2)
VideoHDMI (2)
HDCPHDCP 2.2
audioMini-jack stereo
USBUSB 2.0 x 2
Production PM32F
RGBDP1.2 (loop-out)
audioMini-jack stereo
External controlRS232C (in/out) through stereo jack, RJ45
TunerYes (only for NA)
Power PM32F
TypeInternal
Current SourceAC 100 – 240 V~ (+/- 10 %), 50/60 Hz
Power consumption
Max[W/h]88,0
Typical[W/h]EU 61, Us-42, WW 61
BTU (maximum)300.08
Standby Modeless than 0.5 W
Stopless than 0.5 W
Specification mechanical
Dimensions (mm) PM32F
Set721.2 X 415.6 X 29.9
Package796 X 484 X 132
weight (kg)
VESA mount (mm)200×200
Media TypeFoot Support (optional)
Width bezel (mm)8.9 (pair)
Operation PM32F
Operating temperature0,0 ℃ ~ 40,0 ℃
Humidity10,0 % ~ 80,0 %  
Characteristic
Main featuresSignaling thin and light with MagicInfo S4 integrated, SSSP 4.0
OrientationN / A
Remote controlN / A
Special featuresH/W : temperature sensor, videowall (15 x 15 (OSD)), string into a garland for video wall (16), display swivel, battery clock (maintenance of the clock 168 hours), built-in speaker (10 W x 2), WiFi module embedded, tuner ( only for NA), IP5x, Center IR S/W : Clone (to USB), Switching and recovery of automatic source, RS232C/RJ45 MDC, Plug and Play, PIP/PBP, Image Rotation, button Lock, DP 1.2 Digital Daisy Chain ( HDCP support), firmware update by network, new home screen, video wall without a PC, multi channel, mobile control, events calendar, drive backup
Internal drive
ProcessorProcessor quad-core Cortex-A12 1.3 GHz
Cache memory on-chipL1 (I/D) : 32kb / 32kb L2 (Unified) : 1 Mb
Clock speedQuad-processor 1.3 GHz
Interface main memory2.5 Gb 3 channel 96-bit DDR3-933 (1866 MHz)
GraphThe data Format of the graphics engine for 2D and 3D : 32 bpp graphics Resolution : 1920 x 1080 output Resolution : up to 3840 x 2160 (scaling from the result of the treatment chart.) – Supports OpenGL ES
Storage (FDM)8 Gb (Up 3.75 Gb occupied by the operating system, the 4.25 Gb available, )
MultimediaVideo decoder – MPEG-1/2/4, H. 263, H. 264/AVC, UHD H. 264/AVC – VC-1, AVS+, HEVC, JPEG, PNG, VP8, VP9 audio DSP (decoder) – AC3 (DD), MPEG, DTS, etc
I/O PortsUSB 2.0
System operatorTizen 2.4 (VDLinux)
Certificate
SecurityCB (Europe) : IEC60950-1/EN60950-1 CCC (China) : GB4943.1-2011 PSB (Singapore) : PSB+IEC60950-1 nom (Mexico) : nom-001-SCFI-1993 IRAM (Argentina) : IRAM +IEC60950-1 SASO (Saudi Arabia) : SASO+IEC60950-1 BIS(India) : IEC60950-1 / IS13252 nom(Mexico) : Tuner : nom-001-SCFI-1993 Tunerless : nom-019-SCFI-1998 KC( Korea) : K 60950-1 EAC (Russia) : EAC+IEC60950-1 INMETRO (Brazil) : INMETRO+IEC60950-1 BSMI (Taiwan) : BSMI+IEC60950-1 RCM (Australia) : IEC60950-1/AS/NZS 60950 -1 UL(USA) : cUL60950-1 CSA (Canada) : cUL TUV (Germany) : CE NEMKO (Norway) : CE
EMCFCC (USA) Part 15, subpart B Class A CE (Europe) : EN55022:2006+A1:2007 EN55024:1998+A1:2001+A2:2003 VCCI (Japan) : VCCI V-3 /2010.04 Class A KCC/EK (Korea) : Tuner : KN13 / KN20 Tunerless : KN22 / KN24 BSMI (Taiwan) : CNS13438 (ITE EMI) Class A / CNS13439 (AV EMI) / CNS14409 (AV EMS) / CNS14972 (Digital) C-Tick (Australia) : AS/NZS CISPR22:2009 CCC(China) :GB9254-2008 GB17625.1-2012 GOST(Russia/CIS) : GOST R 51317 Series, GOST 22505-97 EN55022:2006+A1:2007 EN55024:1998+A1:2001+ A2:2003
Accessory
IncludedQuick setup Guide, regulatory guidelines, warranty Card, power Cord, Remote controller, Batteries, Adapter RS232C(IN), protective Plug
Optional
SupportSTN-L3240E
MountWMN4070SD
SpecialtyCML400XJ