Description
Characteristics of the processor, high-definition video VDWALL LVP100 LED :
1. Faroudja® Real Color® Real Color Image Processing, 10+ Bit Faroudja® DCDI De-interlacing Processing, Faroudja® TureLife™ Augmented Video and Image
2. 4 inputs, 2 outputs, double images, it is sufficient for the application requirements to small LED in most cases
3. It allows access to set the output resolution to respond to the size of the LED screen
4. DVI EDID allows you to freely set the input resolution to succeed the display point-to-point.
5. Display PIP / PBP of 2 images, 3 modes double image custom preset
6. Switching seamless, fade in and fade output
7. Control method : operations on the buttons on the front panel, convenient and flexible for the users of the front panel.
8. It is allowed to put 2 cards shipping within
9. It is allowed to work seven days a week and twenty-four hours out of twenty-four. High reliability and stability.
Specifications of the processor, high-definition video VDWALL LVP100 LED :
Specification of outputs 
Specification of inputs

Quantity/type
1 × CVBS
1 × VGA 

(

RVBHV 

)


1 × DVI 

(

VESA 

)


1 × HDMI 

(

VESA/CEA-861 

)

Composite video input
SYS
PAL/NTSC
Impedance
amplitude composite video
1V (p_p) / 75Ω
FormatVGA
PC (VESA standard)
≤2048×1152_60Hz
Amplitude VGA
impedance
R 

、

G 

、

B = 0.7 V(p_p) / 75Ω

DVI Format
PC (VESA standard)
≤2304×1152_60Hz
HDMI Format
PC (VESA standard)
≤1920×1080_60Hz
HDMI1.3 (CEA-861)
≤1080p_60Hz
Input Interface
CVBS : BNC
VGA : 15pin D_Sub (female)
DVI : 24+1 DVI_D (female)
HDMI : HDMI type A
Quantity / Type
2×DVI
DVI Format
1024 × 768_60Hz / 75Hz
1080 × 1920_60Hz
1200 × 1600_60Hz
1280 × 1024_60Hz / 75Hz
1600 × 1200_60Hz-
1920 × 1080_50Hz / 60Hz-
1366 × 768_60Hz-
1440 × 900_60Hz-
1536 × 1536_60Hz-
1920 × × 1200_60Hz2048 1152_60Hz
2304 × 1152_60Hz
2560 × × 816_60Hz2048 1152_60Hz
2304×1152_60Hz
2560×816_60Hz
Output Interface
DVI OUTPUT 

: 

24+1 DVI_D

Control Ports
RS232 (optional)
Input voltage
100-240 VAC 50/60 Hz
Power consumption
≤25W
Temperature
the environment
0-45 

℃

Humidity
the environment
15-85%
Product size
482,6 (L) x 200 (l) x 44 (H) mm
Packaging size
535 (L) x 315 (W) x 145 (H) mm
Weight
GW : 4 Kg, NW : 2.5 Kg
Standard accessories
Power cord 1.5 m × 1 DVI Cable 1.5 m × 1
User manual × 1 CD of operations, × 1 Adapter BNC-to-RCA × 1
Optional accessories
LED sending cards × 2
Connection diagram of the video processor, high-definition VDWALL LVP100 LED :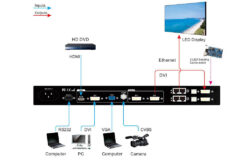 Dimension of the product of the processor, high-definition video VDWALL LVP100 LED :